Conference & Forum
Food Security Forum: Safe, Nutritious and Affordable Food for All
22 Jun 2016 - 24 Jun 2016
Manila, Philippines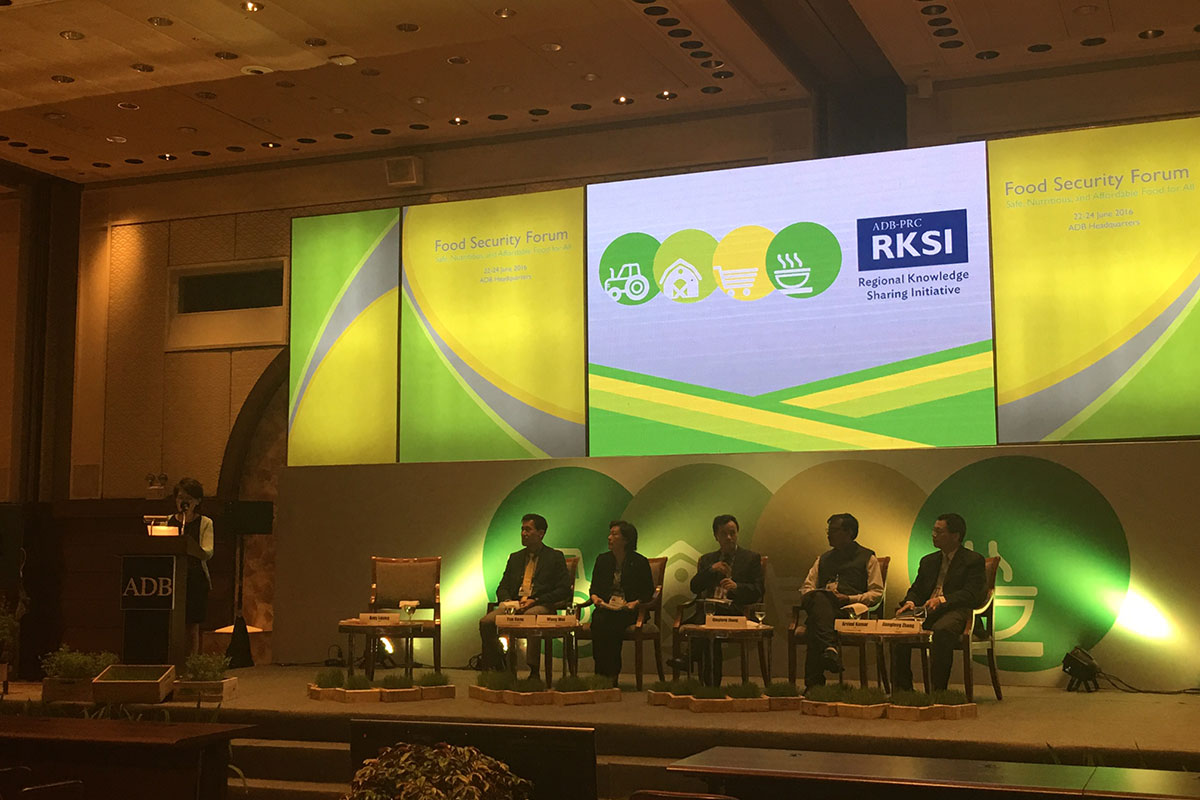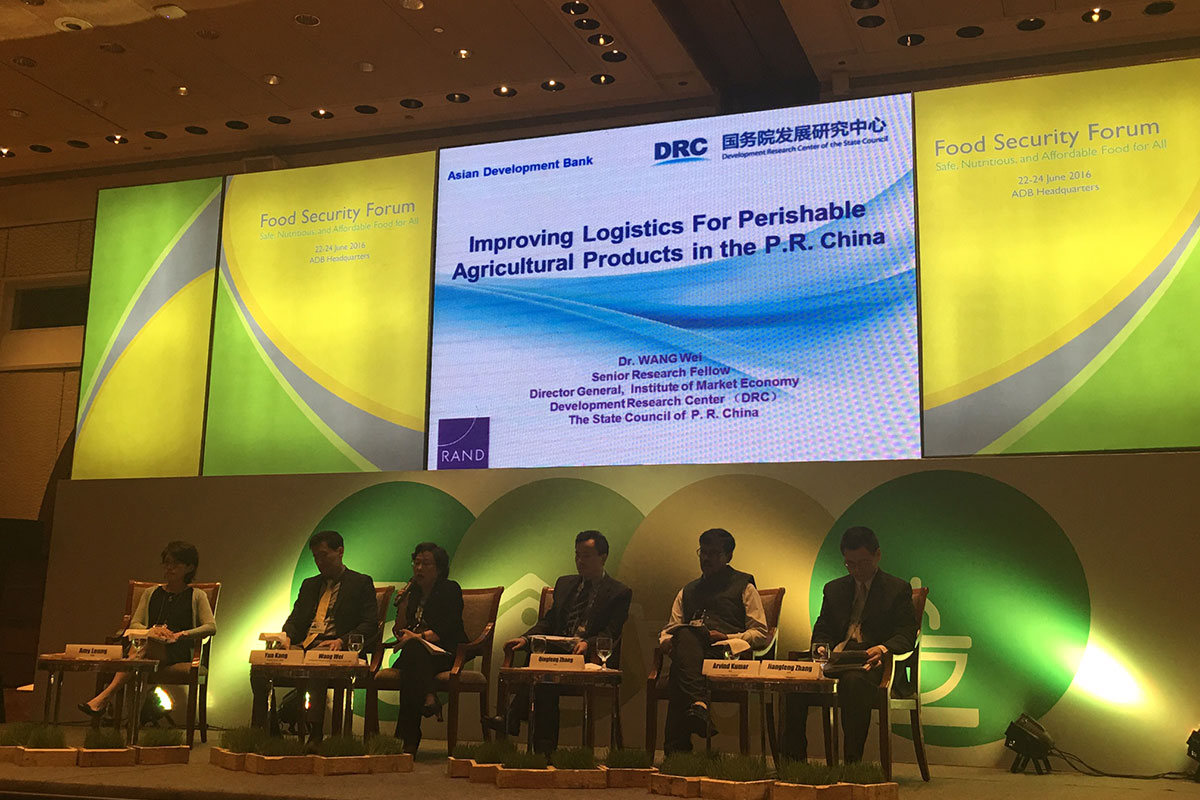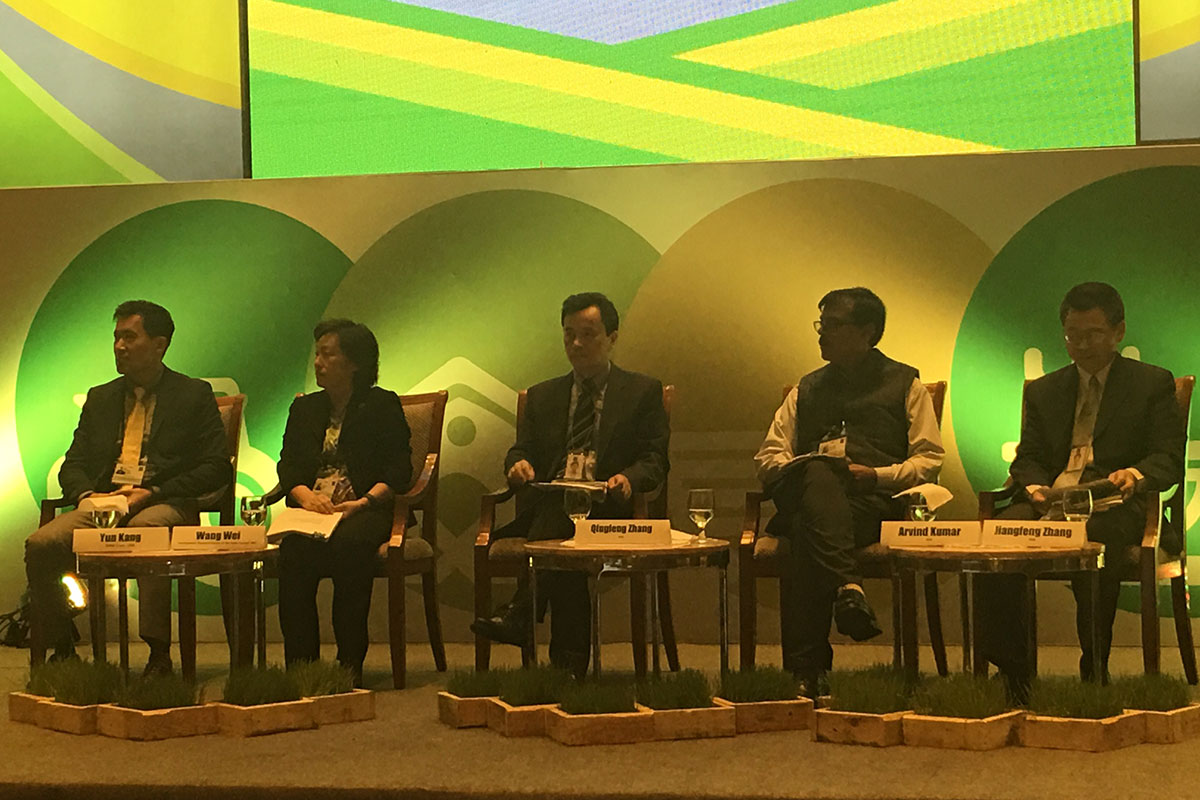 The agriculture and food industry in Asia and the Pacific region has undergone structural transformations, technological advancements, and policy shifts in order to adapt to the changing times. New farming systems, value chain segments consolidation, various mechanisms for food trade, and rising consumer demand and expectations as well as changing lifestyles have shaped the process of bringing food on the table. But in addition to the customary issues of food availability and affordability, concerns on safety and nutrition as well as sustainability have become more pronounced lately.
Achieving food security for all, now and into the future, is at the core of the post-2015 development agenda. The Addis Ababa conference on financing for development held in July 2015 has produced a global framework for financing sustainable development and a set of policy actions by member states. In September, the United Nations (UN) adopted the Sustainable Development Goals (SDGs), one of which seeks to end hunger, achieve food and nutrition security, and promote sustainable agriculture. And in December, the UN likewise adopted the Paris Agreement to limit global warming, which affects the global food system.
Achieving the global goals on food security requires synergy among the priorities and commitments of governments, the private sector, civil society, and development partners. It is in this context that ADB's Rural Development and Food Security Thematic Group has initiated the organization of the Food Security Forum.
Time
Program
14.00 – 17.30
Partnership Dialogue: High-Level Technology to End Hunger

Opening Remarks:
Stephen P. Groff, Vice-President, Operations 2, ADB

Stage-Setting Presentation:
Mahfuz Ahmed, Technical Advisor, Rural Development and Food Security, ADB
14.15 – 14.55
Part A
Chair: Stephen P. Groff, ADB

Cluster 1




International Center for Agricultural Research in the Dry Areas (ICARDA)


International Food Policy Research Institute (IFPRI)


International Maize and Wheat Improvement Center (CIMMYT)


International Potato Center (CIP)


International Rice Research Institute (IRRI)


World Vegetable Center (AVRDC)



14.55 – 15.35
Cluster 2




Asian Farmers' Association (AFA)


Centre for Agriculture and Bioscience International (CABI)


GrainPro, Inc.


Murdoch University



15.35 – 15.50
Break
15.50 – 16.30
Part B
Chair: Bambang Susantono, Vice-President, Knowledge Management and Sustainable Development, ADB

Cluster 3




Food and Agriculture Organization of the United Nations (FAO)


Global Agriculture and Food Security Program (GAFSP)


International Fund for Agricultural Development (IFAD)


Syngenta Foundation for Sustainable Agriculture


World Food Programme (WFP)



16.30 – 17.10
Cluster 4




Deutsche Gesellschaft für Internationale Zusammenarbeit (GIZ)


Government of Australia


Japan International Cooperation Agency (JICA)


United States Agency for International Development (USAID)



17.10 – 17.30
Closing Remarks:
Bambang Susantono, Vice-President, Knowledge Management and Sustainable Development, ADB
17.30 – 19.30
Participant Registration
Cocktail Reception for Forum Participants
ADB Auditorium
Time
Program
08.00 – 09.00
Participant Registration
09.00 – 09.10
Introduction of the Forum
Mahfuz Ahmed, Technical Advisor, Rural Development and Food Security, ADB
09.10 – 10.10
Leaders' Roundtable: The Future of Food: Panel 1

Moderator: Farhana Haque Rahman, Director, General, Inter Press Service

Panelists:




Takehiko Nakao, President, ADB


Sikandar Hayat Khan Bosan, Federal Minister, National Food Security and Research, Pakistan


Musdhalifa Machmud, Deputy Minister, Coordinating Ministry for Economic Affairs, Indonesia


Kundhavi Kadiresan, ADG and Regional Representative for Asia and the Pacific, FAO


Phouang Parisak Pravongviengkham, Vice Minister, Ministry of Agriculture and Forestry, Lao PDR


Sunny Verghese, Co-Founder and Group CEO, Olam International Ltd., Singapore



10.15 – 10.30
Opening of the Techno Show
Takehiko Nakao, President, ADB
10.30 – 10.50
Photo Session
10.50 – 11.00
Break
11.00 – 12.00
Leaders' Roundtable: The Future of Food: Panel 2

Moderator: Farhana Haque Rahman

Panelists




Uttam Kumar Bhattarai, Secretary, Ministry of Agriculture, Nepal


Rob Bertram, Chief Scientist, Bureau for Food Security, USAID


Erkinbek Choduev, Deputy Minister, Ministry of Agriculture, Kyrgyzstan


Tin Htut, Permanent Secretary, Ministry of Agriculture, Livestock and Irrigation, Myanmar


Susumu Ito, Chief Representative, JICA Philippines


David Kaatrud, Director, Asia and the Pacific, WFP


Hoonae Kim, Director, Asia and the Pacific, IFAD Matthew Morell, Director General, IRRI


Ma. Estrella Penunia, Secretary General, AFA


Feng Yong, Deputy Director, Foreign Economic Cooperation Center, Ministry of Agriculture, the PRC



12.00 – 13.00
Lunch
13.10 – 15.00
Session 1: Meeting Asia's Agricultural Transformation Challenges
Key Issues: Shrinking agricultural labor and rising wage; mechanization of agriculture and farm consolidation; feminization of agricultural workforce and its implications; climate change and extreme weather conditions; efficient resource management (water, land, forests and coastal areas).

Chair: Deborah Stokes, Vice-President, Administration and Corporate Management, ADB

Keynote speaker: Jikun Huang, Professor, Peking University

Panelists:




Fabrizio Bresciani, Lead Regional Economist, IFAD


David Dawe, Senior Economist, Regional Office for Asia and the Pacific, FAO


Mark W. Rosegrant, Director, IFPRI


Mahmoud El Solh, Director General, ICARDA Sonomi Tanaka, Technical Advisor, Gender Equity Thematic Group, ADB


Qingfeng Zhang, Director, Environment, Natural Resources, and Agriculture, ADB



15.00 – 15.15
Break
15.15 – 17.15
Session 2: Value Chain Financing and Promotion of Agribusiness
Key issues: Innovative financing instruments; post-harvest loss reduction; de-risking private financing and promoting inclusive business; collaboration between micro, small, and medium agri-enterprises and corporations; value addition and promotion of agro-processing; role of governments.

Chair: Diwakar Gupta, Vice-President, Private Sector and Cofinancing Operations, ADB

Keynote speaker: Sunny Verghese, C0-Founder and Group CEO, Olam International, Ltd., Singapore

Panelists:




Adolfo Brizzi, Director, Policy and Technical Advisory Division, IFAD


Bruno Carrasco, Director, Public Management, Financial Sector and Trade, ADB


Martin Lemoine, Agribusiness Investment Unit Head, ADB


Fiona Lynn, Director, Agricultural Productivity and Food Security, DFAT, Australia


Abdul Awal Mintoo, Co-Founder, Lal Teer Seed Ltd., Bangladesh


Iftikhar Mostafa, Senior Agriculture Economist, GAFSP/World Bank



17.15 – 17.30
Synthesis of Day 2 Activities and Sessions
Takashi Matsuo, Director, Environment, Natural Resources and Agriculture, ADB
Time
Program
08.00 – 09.45
Farmers' Roundtable: Voices from the Field

Moderator:
Ma. Estrella Penunia, Secretary General, AFA

Panelists




Bon Ian Dela Roca, Sorosoro Ibaba Development Cooperative (group-based production and marketing)


Aynal Haque, Bangladesh (modern seed production)


Lourdes Panopio, JAMLA Corporation, Philippines (small-scale agribusiness)


Reynaldo San Jose, Philippines (climate-smart agriculture)


JonJon Sarmiento, PAKISAMA, Philippines (community resilience building)


Luck Wajanawat, Bank for Agriculture and Cooperatives, Thailand (agri credit)



09.45 – 10.30
Knowledge Product Launch

Chair: Amy Leung, Deputy Director General, East Asia Department, ADB

Book: Improving Logistics for Perishable Agricultural Products in the People's Republic of China

Presentation:




Yun Kang, Operations Researcher, RAND Corp., USA


Wang Wei, Deputy Director General, Development Research Center of the State Council, the PRC




Discussant:
Qingfeng Zhang, Director, Environment, Natural Resources and Agriculture, ADB

Book: Developing and Disseminating Water-Saving Rice Technologies in South Asia

Presentation:
Arvind Kumar, Plant Breeder, IRRI

Discussant:
Jiangfeng Zhang, Director, Environment, Natural Resources, and Agriculture, ADB
10.30 – 10.45
Break
10.45 – 12.45
Session 3: Sustainable Food Entitlement
Key issues: Price and supply stability; efficient supply chain and logistics for safe food; digital shopping outlets; tariff and non-tariff barriers to agricultural trade; public procurement and inventory management of food; social safety net programs.

Chair: Marlene Ramirez, Secretary General, AsiaDHRRA

Keynote speaker:
Vinod Thomas, Director General, Independent Evaluation, ADB

Panelists:




Mark Bell, Director, International Learning Center, University of California-Davis


Gerd Fleischer, Head, Agricultural Innovation and Sustainability Standards Section, GIZ


Jared Greenvile, Senior Agricultural Policy Analyst, OECD


Siemon Hollema, Senior Regional Programme and Policy Adviser, WFP


Subhasish Panda, Joint Secretary, Department of Food and Public Distribution, India


Shashi Sareen, Senior Food Safety and Nutrition Officer, Asia and the Pacific, FAO



12.45 – 13.45
Lunch
13.45 – 15.45
Session 4: Safe, Quality and Nutritious Food: Are We Eating Right?
Key Issues: Public policy and institutions; responsible private sector; nutritious and health promoting food; integrated supply facility for cost-effective monitoring of safety issues; frontier technology for food safety; role of development partners.

Chair: Rob Bertram, Chief Scientist, Bureau for Food Security, USAID

Keynote speaker:
Marco Ferroni, Executive Director, Sygenta Foundation for Sustainable Agriculture

Panelists:




Mubarik Ali, Member, Food Security and Climate Change, Planning Commission, Pakistan


María González Pastor, Consultant, Direccion de Operaciones en el Exterior, MERCASA


Najat Mokhtar, Director, Division of Asia Pacific, International Atomic Energy Agency (IAEA)


Akmal Siddiq, Director, Environment, Natural Resources and Agriculture Division, ADB


Paul P.S. Teng, Senior Fellow, Nanyang Technological University, Singapore



15.45 – 16.00
Break
16.00 – 17.20
Actions and Recommendations

Moderator:
Mahfuz Ahmed, Technical Advisor, Rural Development and Food Security, ADB

Panelists:




Nichola Dyer, Program Manager, GAFSP Hoonae Kim, Director, Asia and the Pacific, IFAD


Takashi Matsuo, Director, Environment, Natural Resources and Agriculture, ADB


Akmal Siddiq, Director, Environment, Natural Resources and Agriculture, ADB


Jiangfeng Zhang, Director, Environment, Natural Resources, and Agriculture, ADB


Qingfeng Zhang, Director, Environment, Natural Resources, and Agriculture, ADB



17.20 – 17.30
Closing Remarks
Wencai Zhang, Vice-President, Operations 1, ADB