Workshop & Training
Knowledge Sharing Series: Chinese Best Practice in Cross-Border E-Commerce
5 Mar 2022 - 2 Jul 2022
Online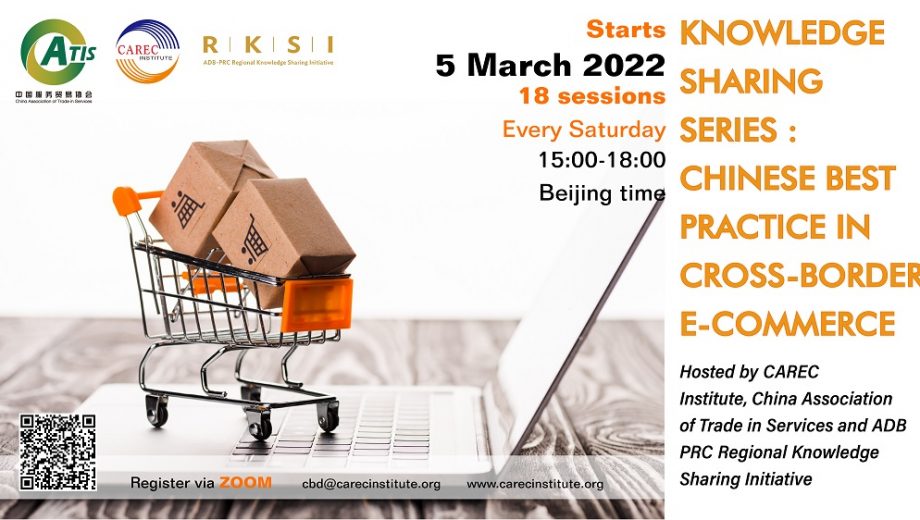 The CAREC Institute, in collaboration with the China Association of Trade in Services (CATIS), national partner from the People's Republic of China (PRC), and RKSI is organizing a multi-session training series on cross-border e-commerce for national technical vocational educational and training (TVET) institutions of CAREC countries and others interested from 5 March 2022 to 2 July 2022, every Saturday, 3-6 pm, Beijing time.
As a fast-growing digitally enabled business model for trade, cross-border e-commerce has been leading the transformation of global trade in recent years. During the COVID-19 pandemic, it became one of the driving forces for the development of global trade. Among others, the PRC has been making significant progress in cross-border e-commerce and accumulating valuable experience and knowledge which will be shared with all CAREC countries during this series.
To strengthen demand-driven knowledge sharing programs among CAREC countries on a systemic basis, the CAREC Institute, CATIS and RKSI invite e-commerce professionals of worldwide tier-one Internet enterprises and e-commerce platforms to join the program.
A full range of training services including talent training, certified assessment, and further innovation incubation services will be provided. English and Russian simultaneous interpretation will be available throughout the sessions. Contact rksi@adb.org for additional queries.
Register here to participate.
Time
Program
10:00 – 10:20
Opening Ceremony

Moderator: Ms. Li Linyi, Deputy Director of International Exchange Division, International Poverty Reduction Center in China (IPRCC).

Welcome Remarks:
Ms. Li Xin, Deputy Director-General of IPRCC.
10:20 – 12:00
Country Presentation I

Moderator: Ms. Li Linyi, Deputy Director of International Exchange Division of IPRCC.

Commentator: Dr. Zhang Chuanhong, Associate Professor of China Agricultural University.

Speakers (20 minutes each):

1. Diversification of Income for Poor Farmers.
Mr. Horn Kimhong, Program Coordinator, Dan Church Aid, Cambodia.

2. PRC Aided Pilot Project of Poverty Reduction Cooperation in Myanmar.
Mr. Win Kyaw Myo, Director, Department of Rural Development, Ministry of Cooperatives and Rural Development, Myanmar.

3. Mr. Htun Htun Oo, Second Secretary, Embassy of Myanmar.

4. Exploration and Experience: Rural Revitalization in the PRC.
Dr. Xu Jin, Associate Professor, China Agricultural University.


12:00 – 14:30
Break
14:30 – 16:00
Country Presentation II

Moderator: Ms. Maha Ahmed, Deputy Country Director, World Food Programme.

Speakers (20 minutes each):

1. Singapore's Approach to Social Assistance and Community Development.
Ms. Lau Amanda, Manager, Ministry of Social and Family Development, Singapore.

2. Tourist Attraction/Learning Community, Baan Nam Sap Learning Center.
Mrs. Suttapak Panpapai, Foreign Relations Officer, Professional Level, ASEAN Unit, Office of Permanent Secretariat, Ministry of Interior, Thailand.

3. D-Hope Project Thailand.
Mrs. Nicha Premchan, Foreign Relation Officer, Professional Level, Department of Community Development, Thailand.

4. Case Introduction and Video Presentation of Hesilu Village in Zhejiang Province.
Mr. He Yunhui, Party Secretary of Hesilu Village, Zhejiang Province, the PRC.

16:00 – 16:20
Closing Ceremony

Closing Remarks:
Mr. Miguel Musngi, Senior Officer, Poverty Eradication and Gender Division of the ASEAN Secretariat.