Workshop & Training
The 9th ASEAN+3 Village Leaders Exchange Programme
7 Sep 2021
Online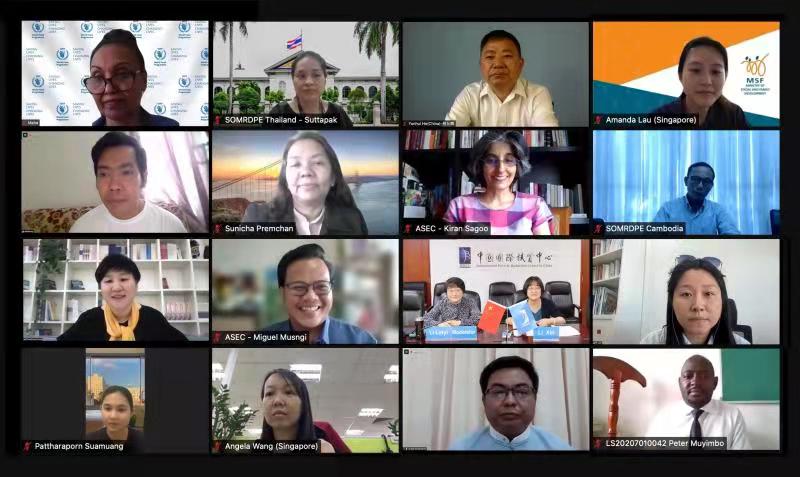 Academics, practitioners, and officials from the region shared their experience and lessons, among others, on income diversification of poor famers, the PRC-Myanmar pilot poverty project, Singapore's community development approach, and revitalizing rural areas as tourist attractions. The annual event typically focuses on site visits to successful poverty reduction villages in the PRC. This year, however, it was held virtually due to the recent delta variant outbreak. 
"The ASEAN+3 Village Leaders Exchange Programme" is the first regional poverty reduction exchange activity for the grassroots organized by IPRCC. It targets the leaders and promoters of rural community development – village officials, and expands the sharing of poverty reduction knowledge to grassroots village officials. The programme has been promoting the development of rural communities in ASEAN countries and the PRC, Japan and ROK, through capacity building of village leaders in the region. Since 2013, the programme has been successfully held for eight series in the PRC and Malaysia , and has been fully recognized by all parties.
Time
Program
10:00 – 10:20
Opening Ceremony

Moderator: Ms. Li Linyi, Deputy Director of International Exchange Division, International Poverty Reduction Center in China (IPRCC).

Welcome Remarks:
Ms. Li Xin, Deputy Director-General of IPRCC.
10:20 – 12:00
Country Presentation I

Moderator: Ms. Li Linyi, Deputy Director of International Exchange Division of IPRCC.

Commentator: Dr. Zhang Chuanhong, Associate Professor of China Agricultural University.

Speakers (20 minutes each):

1. Diversification of Income for Poor Farmers.
Mr. Horn Kimhong, Program Coordinator, Dan Church Aid, Cambodia.

2. PRC Aided Pilot Project of Poverty Reduction Cooperation in Myanmar.
Mr. Win Kyaw Myo, Director, Department of Rural Development, Ministry of Cooperatives and Rural Development, Myanmar.

3. Mr. Htun Htun Oo, Second Secretary, Embassy of Myanmar.

4. Exploration and Experience: Rural Revitalization in the PRC.
Dr. Xu Jin, Associate Professor, China Agricultural University.


12:00 – 14:30
Break
14:30 – 16:00
Country Presentation II

Moderator: Ms. Maha Ahmed, Deputy Country Director, World Food Programme.

Speakers (20 minutes each):

1. Singapore's Approach to Social Assistance and Community Development.
Ms. Lau Amanda, Manager, Ministry of Social and Family Development, Singapore.

2. Tourist Attraction/Learning Community, Baan Nam Sap Learning Center.
Mrs. Suttapak Panpapai, Foreign Relations Officer, Professional Level, ASEAN Unit, Office of Permanent Secretariat, Ministry of Interior, Thailand.

3. D-Hope Project Thailand.
Mrs. Nicha Premchan, Foreign Relation Officer, Professional Level, Department of Community Development, Thailand.

4. Case Introduction and Video Presentation of Hesilu Village in Zhejiang Province.
Mr. He Yunhui, Party Secretary of Hesilu Village, Zhejiang Province, the PRC.

16:00 – 16:20
Closing Ceremony

Closing Remarks:
Mr. Miguel Musngi, Senior Officer, Poverty Eradication and Gender Division of the ASEAN Secretariat.