Workshop & Training
CAREC Regional Workshop

The PRC's Experience in Negotiating and Implementing Free-Trade Agreements 2:00 - 4:15 pm Beijing Time, 28 Nov 2022 Online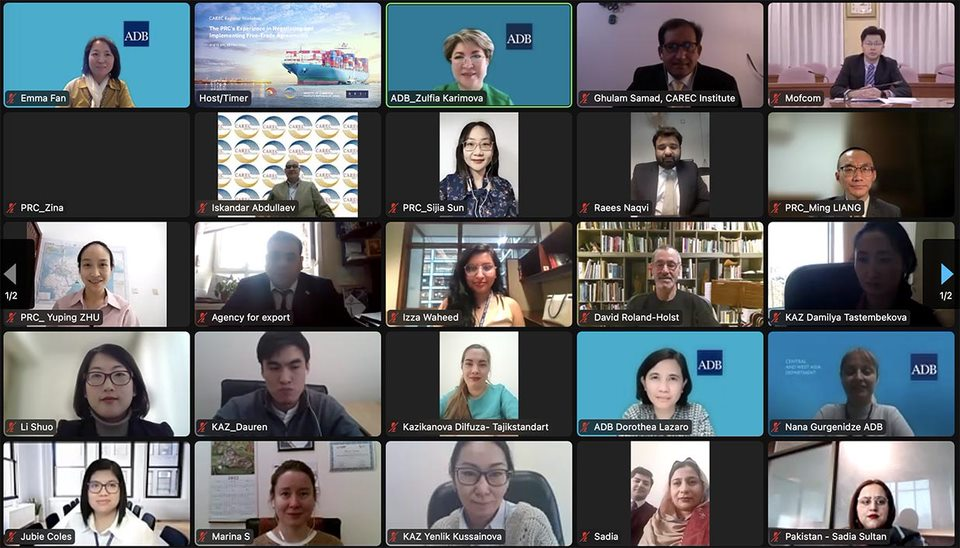 The PRC maintains 19 free trade agreements (FTAs) with its trade and investment partners and is negotiating several more. The PRC's FTA partners include Asian economies like ASEAN, Singapore and Korea, European economies such as Iceland and Switzerland, Oceanian economies like Australia and New Zealand, and Latin American economies such as Chile, Peru and Costa Rica. Among CAREC members, The PRC has FTA agreements with Georgia and Pakistan. In addition, in November 2020, The PRC and 14 other countries signed the Regional Comprehensive Economic Partnership. The PRC announced the ratification of the agreement in early 2021. The PRC was the first among the 15 consignees to officially ratify the Regional Comprehensive Economic Partnership (RCEP). The PRC's trade with members of RCEP accounts for approximately one-third of its annual trade. The more integrated market among the members as the result of the Agreement will be conducive to the promotion of trade and investment in this region. As to the trade and investment rules in the region, the RCEP Agreement sets an example for future and further similar FTA negotiations and solved the spaghetti bowl issues by providing more favorable treatment to enterprises from the member states.
In 2021, the PRC continued to premise the trade policy on trade liberalization and support for the multilateral trade system. In the past several years, the PRC prioritized free trade agreement negotiations and the construction of in-state free trade zones as the key step to facilitate trade and investment home and abroad.
Besides, the PRC also applied for access to the Comprehensive and Progressive Agreement for Trans-Pacific Partnership (CPTPP) and the Digital Economy Partnership Agreement (DEPA), which exhibits the great ambition to promote the liberation of trade in a larger geometric region and digital world.
The key purpose of the workshop is to share with CAREC countries the PRC's comprehensive experience in negotiating and implementing FTAs both on regional level and bilateral level. CAREC DMCs will learn the PRC's foreign trade policy, including Belt and Road Initiative, FTA lessons and case studies on signed FTAs.
Join via Zoom. 
Meeting ID: 952 0951 5789
Passcode: FTA12345
Time
Program
14:00 – 14:10
Welcome Remarks
Moderator: Ms. Zulfia Karimova, Principal Regional Cooperation Specialist, Public Management, Financial Sector and Regional Cooperation Division (EAPF), East Asia Department (EARD), ADB

• Ms. Emma Fan, Director, EAPF, EARD, ADB
• Mr. Chen Ning, Deputy Director General, MOFCOM
14:10 – 14:20
Session 1: Objectives of the workshop
• Presenter: Ms. Zulfia Karimova
14:20 – 15:05
Session 2: The PRC Trade Policy and Trade Dynamics in CAREC
Moderator: Dr. Iskandar Abdullaev, Deputy Director II, CAREC Institute

Presentations:
• The PRC's Trade Policy: General Information.
Presenter: Mr. Liang Ming, director and senior research fellow of the Institute of International Trade, Chinese Academy of International Trade and Economic Cooperation

• The PRC and Central Asia: Trade Dynamics and Perspectives.
Presenter: Ms. Li Shuo, Deputy Director, Department of Eurasian Affairs, MOFCOM

• Trade in CAREC Region: Key Trends.
Presenter: Dr. Ghulam Samad, Senior Research Specialist, CAREC Institute

Q&A (15 min)
15:05 – 16:05
Session 3: The PRC and FTAs: Overview and Lessons Learned
Moderator: Ms. Zhu Yuping, First Secretary, Department of International Trade and Economic Affairs, Ministry of Commerce

Presentations:
• Overview of FTAs Signed by The PRC, Overall Trends and Prospects for FTAs, Future Outlook of The PRC's FTA Network Development.
Presenter: Mr. Wang Jiangning, First Secretary, Department of International Trade and Economic Affairs, MOFCOM

• RCEP, Lessons Learned from Regional FTA Negotiation and Implementation.
Presenter: Ms. Sun Sijia, Second Secretary, Department of International Trade and Economic Affairs, MOFCOM

• Bilateral FTAs. Case Study: The PRC-Chile FTA.
Presenter: Ms. Li Yu, Deputy Director, Department of International Trade and Economic Affairs, MOFCOM

Q&A (30 min)

16:05 – 16:15
Wrap-up and Closing

• Ms. Zhu Yuping, MOFCOM
• Ms. Zulfia Karimova, ADB