Seminar & Lecture Series
ADB-Stanford University Webinar Series on Financing Nature and Biodiversity

Day 1. The Role of MDBs, Governments, and Development Partners 6 Nov 2020 Virtual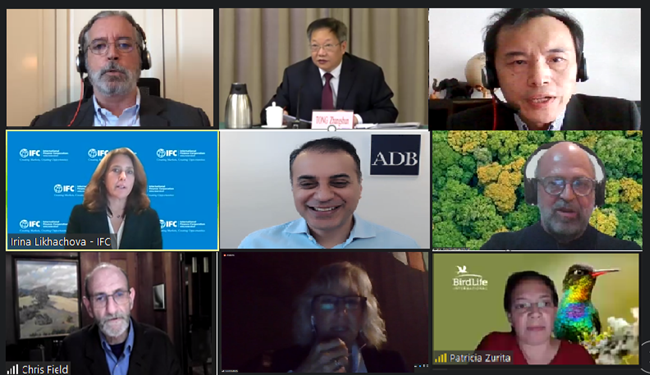 The Asia-Pacific region faces biodiversity loss, land use change, natural resource overexploitation and pollution, exacerbated by the rise of zoonotic diseases, such as the COVID-19 pandemic. More work needs to be done to recognize what nature-positive solutions can offer as part of government's recovery plans implemented in development member countries.
The ADB Natural Capital Lab (NCL) regional digital platform will serve as a testbed to integrate nature-positive solutions in project design and implementation, leveraging additional financial resources for nature-positive recovery in the People's Republic of China (PRC) and the Asia- Pacific region.
The three-days webinar series is aimed at developing the ADB Natural Capital Lab initiative with ADB regional departments and external partner organizations, in preparation of its formal launch, planned at the Conference on Biodiversity (COP15) in May 2021.
The first of the three days, which will also be combined with the National Development and Reform Commission (NDRC)'s training workshop on ecological compensation, will feature the role of multilateral development banks (MDBs), governments and development partners to mobilize private capital for natural capital investments.
The second day will be focused on the role of private sector investors, including commercial banks and large corporations to leverage biodiversity finance and natural capital investments in the rural economy.
The third and last session will set the stage to build the bank-wide regional platform. The PRC pioneering approaches will be presented for south-south cooperation in the Asia-Pacific. The Yangtze River Economic Belt (YREB) and the upcoming Yellow River Ecological Corridor (YREC) integrated frameworks will be used as models. ADB regional member countries will also be invited to share their approaches to leverage natural capital accounting and biodiversity finance.
Venue:
Date:
6 November 2020 (9:00 am -11:30am, EST, Manila/Beijing time) or
6 November 2020 (8:00 pm -10:30pm, EDT, US time)
Co-convenors:
ADB
Stanford University
National Development and Reform Commission
Contact:
Silvia Cardascia
Young Professional
EAER/ EARD
Asian Development Bank
Email: scardascia@adb.org
Time
Program
9:00-9:30 AM
SESSION 1: THE ROLE OF MDBs AND GOVERNMENTS IN NATURAL CAPITAL INVESTMENT
Chair: James Lynch
Director General, East Asia Department, ADB

Nature-positive Recovery and the Regional Natural Capital Lab in the Asia-Pacific
Ahmed Saeed
Vice-President for East Asia, Southeast Asia and the Pacific, ADB

The Role of the Global Environment Facility in Financing Nature
Carlos Manuel Rodríguez
CEO and Chairperson, Global Environment Facility (GEF)

Effectiveness of the People's Republic of China's Ecological Protection and Compensation Mechanisms in Protecting Natural Ecological Systems
Tong Zhangshun
Director General, Regional Revitalization Department, NDRC
9:30 -10:30 AM
SESSION 2: INNOVATIONS FOR INVESTING IN NATURAL CAPITAL
Chair: Warren Evans
Special Project Facilitator, ADB

HSBC Pollination Climate Asset Management: Opportunities for Collaboration
Martjin Wilder
AM Founding Partner, Pollination Group

Guidance on Calculating the Gross Ecosystem Product to Carry out EcoCompensation and Green Finance Mechanisms
Wang Jinnan
Academician, Chinese Academy of Engineering and
President of Chinese Academy of Environmental Planning (CAEP),
Ministry of Ecology and Environment (MEE)

East Asia and Southeast Asia Flyway
Patricia Zurita
CEO, BirdLife International

Panelists:




Ahmed Saeed, Vice-President for East Asia, Southeast Asia and the Pacific, ADB


Tong Zhangshun, Director General, Regional Revitalization Department, NDRC


Chris Field, Director, Stanford Woods Institute, Co-chair of IPCC (2008-2015), Group II



10:30-11:20
SESSION 3: CAPACITY BUILDING, NETWORKING AND PARTNERSHIP FOR INVESTING IN NATURAL CAPITAL
Chair: Qingfeng Zhang
Director, Environment, Agriculture and Natural Resources Division, East Asia
Department, ADB

ADB's Biodiversity Roadmap and Directions for Establishing a Natural Capital Lab
Duncan A. Lang
Senior Environmental Specialist, Safeguards Division and Environment
Thematic Group Unit, Sustainable Development and Climate Change
Department, ADB

Natural Capital Project: Key Tools since 2005
Gretchen Cara Daily
Founder and Director, Natural Capital Project, Stanford University
Lessons Learned from IDB Natural Capital Lab
Gregory Watson
Head, Natural Capital Lab, Interamerican Development Bank (IDB)

Mainstreaming Biodiversity Finance across Projects and Operations
Irina Likhachova
Senior Operations Officer, International Finance Corporation (IFC)

Mobilizing Private Finance for Biodiversity and Piloting Integrated Ecosystem-Economic Model for Policy Making
Giovanni Ruta
Senior Environmental Economist, World Bank Group
11:20-11:30
CLOSING REMARKS AND WAY FORWARD




Wang Xintong, Deputy Director General, Regional Revitalization Department, NDRC


James Lynch, Director General, East Asia Department, ADB