East Asia Blog Series
An Integrated Urban Transport Solution for a Rapidly Growing City
Chenglong Chu
25 Jul 2022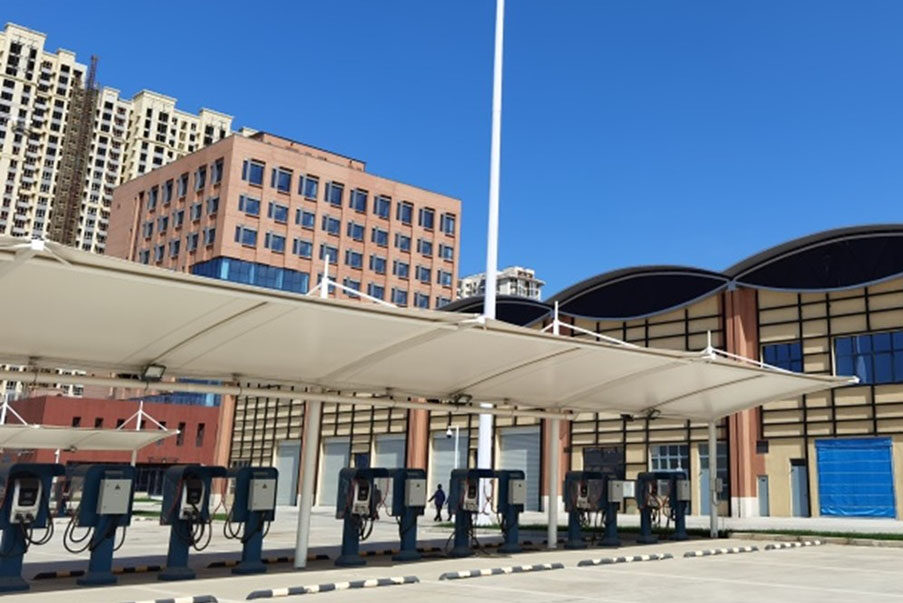 Overview
An Asian Development Bank-funded project in the PRC demonstrated a comprehensive urban transport solution for a growing metropolis by providing better-connected road networks, well-equipped nonmotorized transport facilities, an intelligent transport system, an effective vehicle emission monitoring and control system, and road safety education. The pilot project helped deliver more efficient, safer, and greener transport services to the nearly 13 million residents of Xi'an city in Shaanxi province.
Context
Xi'an, the capital of Shaanxi Province, is expanding and developing rapidly, and it has become the most important growth pole in the northwestern region of the PRC. From 2011 to 2020, the city population grew 50% from 8.5 million, while the number of registered motor vehicles more than doubled to 3.7 million from 1.4 million.
Challenge
Rapid economic and population growth have led to overcrowding in the historic walled city. There is increased demand for new offices, commercial space, and social infrastructure in the area between the Second Ring Road and the Third Ring Road on the city's periphery. The change in traffic patterns and surging transport requirements combined with limited connectivity created bottlenecks that could constrain economic growth and development.
The city's traffic control center primarily covered areas inside the Second Ring Road and lacks equipment in the new areas of urban growth. This resulted in poor system management, policing and enforcement issues, conflict between vehicles and pedestrians, and a system that failed to give proper priority to public transport and emergency vehicles.
A lack of suitable equipment, capacity, and enforcement also left Xi'an struggling to regulate vehicle standards, driver behavior, and emissions in the face of mounting traffic congestion.
Weak interagency coordination compounded the city's transport woes. It also contributed to the lack of integration between various modes of travel, especially between public transport and nonmotorized modes used by the poor, who walk or use bicycles for most of their trips.
In addition, the involuntary resettlement impact of the project was significant. Over 230,000 square meter (m2) residential and commercial buildings had to be demolished to give way to road network improvements and multimodal interchanges. About 1,000 residents and over 8,500 employees of 25 enterprises were affected.
Solutions
The Xi'an Urban Road Network Improvement Project was designed in close consultation with transport authorities to provide a sustainable and integrated solution to urban transport problems. Efforts focused on improving road network efficiency and road safety, fostering multimodal transport, and bringing in intelligent technologies in traffic management and vehicle emission control.
Results
The project demonstrated sustainable urban transport solutions not only for other large cities in the PRC but also for the region. It reduced traffic congestion and accidents as well as vehicle emissions.
More efficient urban transport
The effective implementation of the project reduced traffic congestion. The average vehicle speed reached 27.1 km/hour at the project corridors, compared to only 14.5 km/hour before the project. Designating bus priority corridors also increased average speed to 25.4 km/hour from 14.0 km/hour.
A safer urban transport system, particularly for pedestrians
At project completion, the annual traffic accident rate dropped by 48% to about eight cases per 10,000 vehicles in 2019 from the 2011 baseline of 15.7. Moreover, the annual fatality rate in traffic accidents was reduced to 1 person per 10,000 vehicles in 2019 from the 2011 baseline of 3.7. Overall, the concept of giving pedestrians priority gained prominence and wider understanding after the implementation of the project.
Lower vehicle emissions
The annual average nitrogen oxide emission dropped by 59.3% to about 116 tons per 10,000 vehicles in 2019 from the 2011 baseline of 287.2. The passing rate of fix-spot vehicle emission tests was above 95%, and that of random on-road tests was 94.3% in 2019, above the 80% target.
Better and greener bus system and transferring services
The project supported 40 new bus routes after the construction of three bus hubs and the provision of 100 new electric buses that strengthened the efficiency of a more environmentally friendly public transportation system. City residents, particularly those living in peripheral areas, have substantially benefited from the project.
Minimized resettlement impact
A total of 117,925 m2 residential house were demolished, 3.6% less than 122,354 m2 in the updated resettlement plans (URPs). A total of 114,900 m2 enterprise buildings were demolished, 8.6% more than 105,828 m2 in URPs. Consequently, 999 residents and 8,549 employees were affected during project implementation, decreased by 22% and increased by 24% than those in the URPs, respectively. The average growth in per capita net income of the affected households increased by 38.1% from 2013 to 2020, higher than the average growth in Xi'an.
Lessons
It is important to carefully plan for potential difficulties in land acquisitions and demolitions when projects target urbanized central or peripheral areas of densely populated cities. Through due diligence during project preparation with a focus on on-ground and underground structures, including housing property rights, land ownership and pipes networks are essential for the timely delivery of the project's development impact.
Despite its modest budget ($300,000), the success and outreach of the road safety education program showed that important social impacts can be achieved even with limited resources if designed and implemented wisely. Education programs have the potential to trigger similar campaigns in other areas of the city. For instance, following ADB's successful pilot, traffic police conducted additional education programs that significantly contributed to the improvement of road safety in Xi'an. This experience also highlights the relevance of including soft components in infrastructure projects, which result in social benefits for a greater number of individuals beyond the project area. In this process, active dialogue and involvement of local authorities are key.