East Asia Blog Series
Developing a Climate-Friendly Cooling Sector through Market and Financing Innovation
Yun Zhou
23 Aug 2022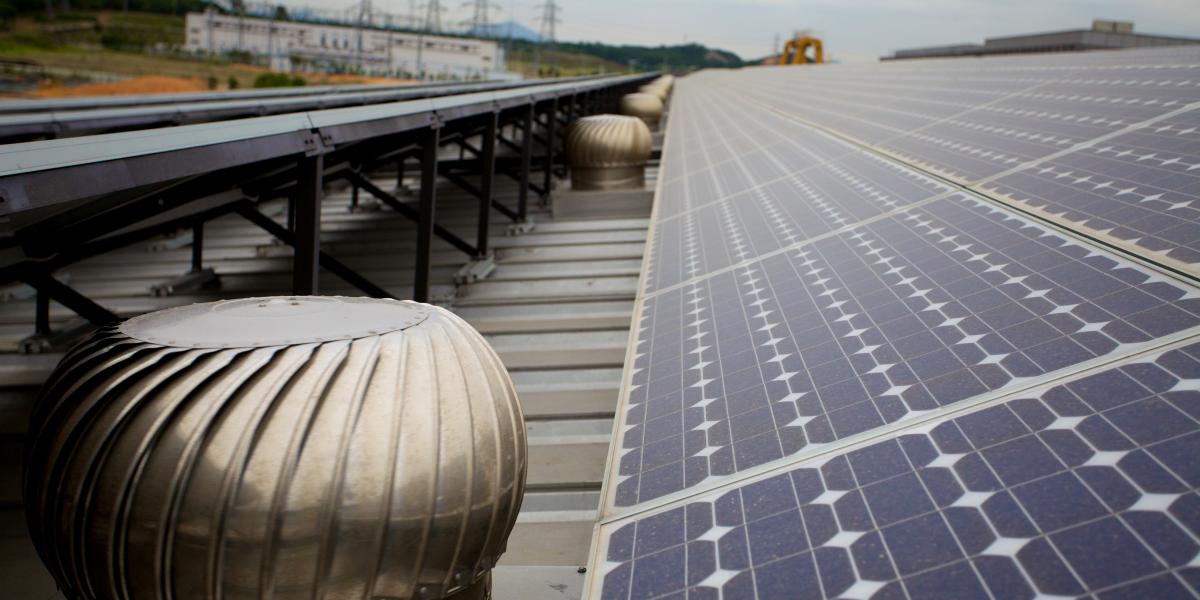 Overview
As a substitute for ozone-depleting substances, hydrofluorocarbons (HFCs) are widely used as refrigerants for refrigeration and refrigeration systems. Although they are believed to have negligible impact on the ozone layer, HFCs have global warming potential several thousand times that of carbon dioxide (CO2) and are the fastest growing greenhouse gases (GHGs), increasing 10% every year.
Refrigeration and air conditioning systems also consume enormous amounts of fossil fuel-powered electricity. 
A warming planet and rising incomes are increasing the demand for cooling exponentially. However, many cities in the world lack advanced technical solutions and effective financing mechanisms to attract investment in highly efficient and climate-friendly refrigeration and/or cooling systems and services.
In the People's Republic of China (PRC), a project supported by the Asian Development Bank (ADB) helped the city of Ningbo in Zhejiang province develop climate-friendly solutions and innovative business models and financing mechanisms to reduce GHG emissions and improve energy efficiency in the cooling sector. Solutions include an internet-based platform to enable the sharing of underutilized refrigeration and/or cooling resources.
Lessons and recommendations from the project can help other cities reduce their carbon footprint and build a climate-friendly, energy-efficient, and smart cooling sector.
This case study is adapted from the project's completion report and other documents.
Context
The PRC is the world's largest user of HFCs, and it recognizes the urgent need to reduce HFCs as part of climate mitigation measures. In 2016, the PRC adopted the Kigali Amendment to the Montreal Protocol, committing to reach peak consumption and production of HFCs by 2024 and an 80% reduction by 2045.
As one of the most important energy production and manufacturing bases in the PRC, Ningbo presents a unique opportunity to showcase advanced solutions and innovative financing mechanisms for city-scale sustainable cooling. 
Ningbo is a dynamic city of 7.6 million people with a developed industrial economy and high energy demand. It is located in the Yangtze River Delta on the east coast and has the largest shipping port in the country.
Challenges
Although the PRC has made many efforts to improve energy efficiency in the industrial, commercial, and residential sectors, the potential for energy savings and GHGs reductions in the refrigeration and/or cooling sector is far from being tapped.
Insufficient information on advanced cooling-related technologies and lack of accessible and affordable financing have also made customers prioritize less-efficient solutions in the refrigeration/cooling systems. 
A 2018 survey by the Ningbo Development and Reform Commission on the refrigeration and/or cooling systems in cold storage and/or refrigerated warehouses, food services, supermarkets, and hotels revealed that many refrigeration systems installed 20 to 30 years ago are still in operation. The energy efficiency of these legacy systems can be greatly improved.
The traditional way of doing small and isolated energy-saving projects, however, makes it difficult to attract investment in more efficient systems and services. 
Implementing a large-scale cooling initiative at the city level could create opportunities for energy efficiency improvements in all sectors related to cooling—from cold storage and refrigeration warehouses to food services, supermarkets, industrial production, and logistics transportation, and air conditioning in commercial, public, and residential buildings.
Solutions
The project in Ningbo assessed national policies on energy efficiency improvement and reduction of GHG emissions in the cooling sector, identified advanced refrigeration and/or cooling technologies and applications (e.g., using waste energy for cooling), developed viable business models and innovative financing mechanisms for the cooling initiative (i.e., sharing economy model, bulk procurement, "platform as a service" model ), and designed an "internet+ cooling" prototype for optimal resource utilization.
The project conducted customer surveys on cooling equipment, energy use, and the customers' willingness to invest in energy efficiency and low-carbon measures. It created a database of viable retrofit projects to enable the city to aggregate these opportunities to achieve large-scale energy savings. It identified barriers in promoting green cooling, including hurdles to retrofitting inefficient cooling systems or adopting new technologies, which formed the basis for preparing policy recommendations.  It studied the feasibility of internet-enabled platforms to help achieve city-scale green cooling deployment through digitalization.  
The project prepared an internet+ cooling prototype implementation plan on how to design digital infrastructure, determine digital solutions, and establish new data-driven business models to support Ningbo in its transition to smart and climate-friendly cooling. It adopted the sharing economy concept for the cooling sector. For example, underutilized refrigerated spaces in cold storage and cold chain transportation equipment and vehicles may be shared by several facilities.
The internet+ concept and the sharing economy can provide several benefits, such as optimizing the utilization of resources, avoiding waste, saving energy, and reducing costs and emissions. 
Results
The project helped Ningbo create an integrated implementation model that scales climate-friendly cooling through financing and market innovation. This approach enables cities to simultaneously seize green cooling opportunities in multiple sectors, including industry, commercial, and the public sector. 
The Ningbo Development and Reform Commission has not only adopted the project's climate-friendly and energy efficient cooling initiative but also prepared an investment proposal for ADB financing based on the findings of the project and submitted it to the National Development Reform Commission in October 2021. The PRC's National Investment and Guaranty Corporation (I&G), the executive agency of the Air Quality Improvement in the Greater Beijing–Tianjin–Hebei Region—Green Financing Scale Up Project,  may also finance some cooling retrofit subprojects in Ningbo subject to further due diligence.
Lessons and Recommendations
The project focused on the key factors that were preventing adoption of cleaner cooling technologies. It assessed major policy gaps affecting refrigeration and cooling-related energy efficiency, identified advanced cooling technologies and applications, developed viable business models and innovative financing mechanisms, and designed an internet+ cooling prototype to promote optimal resource utilization.
Key recommendations based on the studies made by the project are the following:
Use economic incentives to enhance compliance with efficiency standards.  For example, Ningbo can establish an energy-saving credit system and a low-credit list for customers who use energy exceeding the per unit limit or use equipment that does not meet the new minimum energy efficiency standards. Customers on the low-credit list will be subject to a certain degree of financing and government procurement restrictions.
Ningbo could adopt different policies for different types of projects. For projects that have good economic benefit, they can be promoted through commercialized methods, such as energy-savings performance contracts. For projects that have less obvious economic benefits but good social and climate benefits, the government could provide incentives and other resources. For high energy-consuming and less efficient equipment, a phaseout program should be developed.
Pay more attention to public institutions. Cooling energy use of public buildings, such as government agencies, schools, and hospitals in Ningbo accounts for more than 40% of total building energy consumption. Improving energy efficiency in cooling in the public sector can result in substantial energy savings and also set a model for energy conservation.
Establish a highly efficient cold chain logistics service sector. Set up a resource sharing platform to enable the dynamic flow of timely information between logistics companies, business customers, and ports; optimize the allocation of resources; and create a third-party cold chain storage and transportation service sector.
Promote the use of waste energy for cooling. As one of the country's largest industrial bases, Ningbo has a huge amount of waste heat resources from industrial production. Fully utilizing the cold energy released by gasification of liquified natural gas alone can save about 290 gigawatt hours of electricity consumption (equivalent to 82,000 tons of standard coal) per year and reduce annual carbon dioxide emissions by 152,000 tons.
Support the integration of solar energy, thermal storage, and cooling. The PRC's Installing Photovoltaic (PV) on the Roof of Whole Counties (i.e., cities, districts) initiative, which calls for the rapid deployment of distributed PVs, brings policy opportunities for Ningbo to actively seek the integration of PV, thermal storage, and cooling to achieve more economic and energy-saving benefits.
Innovate financing to enable city-scale deployment. Create a public–multilateral development bank–private partnership (PMPP) type of co-financing that uses multilateral development bank concessional loans and government fiscal funds as leverage to attract private/commercial capital. Ningbo can design two targeted financing schemes: green cooling revolving loans that mix higher commercial loan interest rates with lower concessional loan interest rates to reduce borrowing costs for small and medium-sized enterprises and a commercialization-driven type of financing that strengthens the integration of technology and finance.
Ningbo can also promote performance-based loans and adopt de-risking mechanisms, such as on-bill financing, loan guarantees, and energy-savings insurance. Explore the combined use of these tools to reduce the shortcomings of relying on a single method.
City-scale deployment requires seamless integration/aggregation of a large number of individual projects. Ningbo can create a special purpose vehicle (SPV)-type of company that will be responsible for all the work related to the deployment. This helps achieve the project scale that investors seek and standardizes the implementation to reduce transaction costs.
Build a digital platform-as-a-service model. Adopt digital and internet of things technologies to enhance retrofit services, financing, and sharing of resources. A digital platform could connect isolated information nodes and improve the flow and management of information among market participants. This could potentially create more market facilitation opportunities.
Strengthen the capacity building for green cooling.  Promote a better understanding of energy-efficient cooling technology and its long-term benefits among customers and build their capacity for increasing efficiency through operational improvements. Improve the technical capacity of financial institutions to support green cooling technology.