Frontline Stories
A Volunteer Steps up to Boost Health Workers' Morale in Wuhan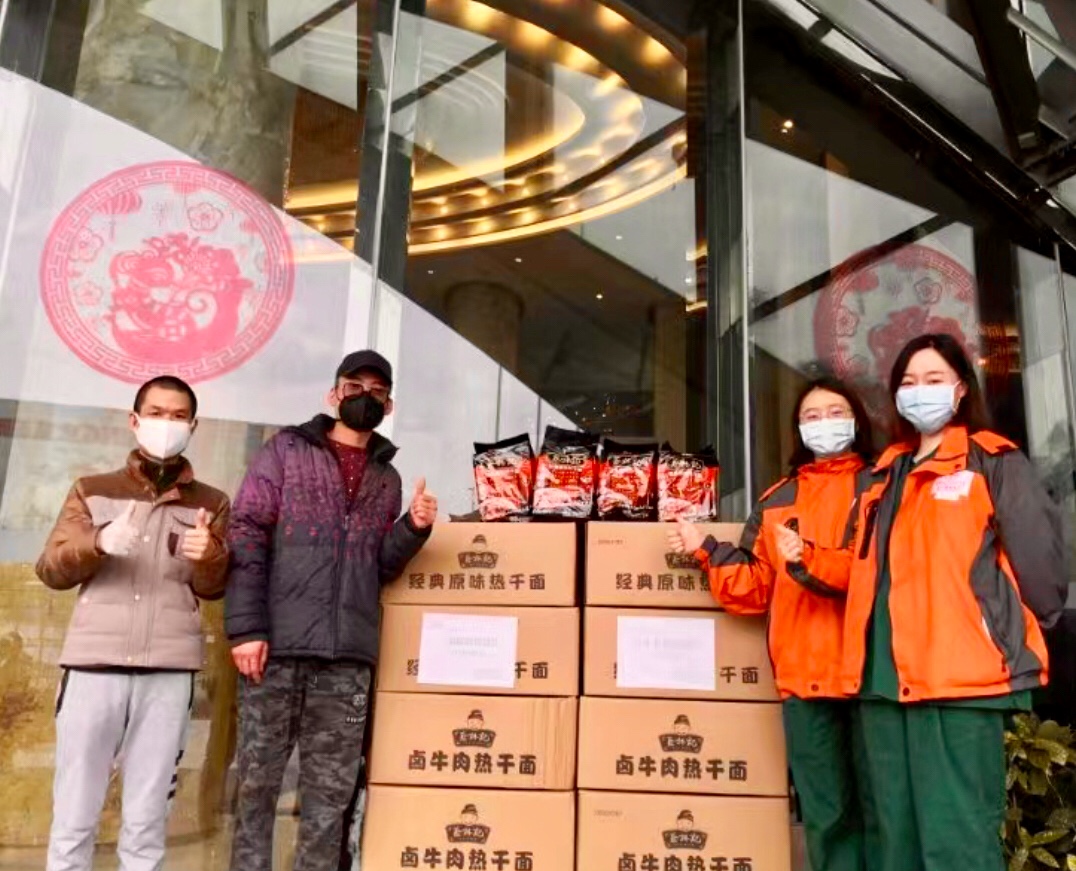 "Of course, you can't just stay home. You have to help," Jin Chen's mother told him over dinner in February 2020. Wuhan had just been locked down because of COVID-19 and health workers from all over the country were descending on the city, which was ground zero for the disease.   
Before the pandemic, Mr. Chen had been working in clothing retail in Wuhan for more than 10 years. It soon became clear he wouldn't be returning to work any time soon. His family has always believed in giving back through volunteer work, and he scanned WeChat to see what he could do. "The government was recruiting volunteers and I signed up," he said. 
Mr. Chen made his mother promise not to tell family members because he didn't want them to worry. "Somehow," he said, "my cousin found out. His wife worked in a hospital that gave out personal protective equipment (PPE). He sent me some, including face masks, goggles, gloves, and more than 10 sets of protective clothes and told me to call if I needed more. Volunteers received our own PPE from the government, but what my cousin did was so heartening."  
"My first task was to go to the airport to greet the health workers coming from all over the PRC," he said. "My fellow volunteers and I took them to their hotels and workstations and helped them settle in. After a few days, I became a health station leader at a hotel, which meant staying there full-time. It was hard to say goodbye to my mom. We cried. We didn't know how long I would be there or whether I would even return home safe and healthy."   
Mr. Chen worked at the hotel in Wuchang District from 23 February to 31 March. That's where he met Dr. Yin Liu of the Anhui provincial Center for Disease Control, who had arrived a week earlier. Twenty-three other health workers had come from Anhui, Henan, and Maanshan.  
"I was the main contact point and liaison between the visiting health workers and the partners in Wuhan—the local government, the community, and health services, including the Wuchang district Center for Disease Control and Prevention," he said. "I worked closely with all of them almost 24/7 to ensure everything was all right—accommodation, food, transport, access to services, and so on. In the evening, I took their orders for breakfast—some wanted noodles, others porridge, with different flavors or time of delivery—and told the cafeteria that was supplying us. We had to make sure the hotel rooms were heated well and that the health workers could reach their destinations on time to do their epidemiological investigation or polymerase chain reaction (PCR) test sample collection and other tasks."  
"We were so grateful to the government and others who supported us," he said. "We didn't have our own vehicles and other provisions. They supplied them, bringing us to where we needed to go. I learned about disinfection, what contaminated and semi-contaminated areas are, how to wear PPE properly, and lots of medical terminology and skills. I was so impressed by the health workers' dedication and professionalism."     
Dr. Liu praised the volunteers for making the health workers feel welcome. "Mr. Chen," he said, "bonded with us and we worked closely for about 40 unforgettable days. He wept when he saw us off at the airport at the end of March. He stays in touch with some of us. My colleagues and I wrote him an official letter expressing our gratitude for his dedication."       
"We did our best," Mr. Chen said. "Some of the health workers caught cold and some felt anxious, especially at the beginning when so little was known about the virus. We comforted them, especially the newly arrived ones, when they felt down, sleepless, or homesick. We helped them get PCR tests when they felt unwell. I bought birthday cakes and organized birthday parties for some—with social distancing—and brought them chang shou mian or longevity noodles. Sometimes we asked people in the neighborhood to bring them re gan mian—the 'hot dry noodles' that are a Wuhan specialty—as a treat. We wanted the health workers to know we cared about their well-being."  
Despite taking all precautions, however, Mr. Chen had a scare. A grocery store thermometer showed his temperature at over 37.3°C. He holed up in his room for 3 days, doing his work over the phone and WeChat. He emerged from isolation when he felt better. It turned out it was nothing serious. "Everyone laughed at me," he said. "That was the only time I was really frightened. But as long as you take preventive measures, you shouldn't be afraid, even of omicron."  
Mr. Chen knew the risk but that didn't stop him from volunteering. "My mom often told me the health workers were so brave and selfless for coming to Wuhan to help us," he said. "We couldn't stay idle! That's what I was most proud of doing for my city. It made me feel better than a billion yuan ever could. And my mom is so proud of me."