East Asia Blog Series
Flood Risk and Public Health: An Unlikely Partnership in the Fight Against COVID-19
Xueliang Cai and Rabindra P. Osti
30 Sep 2020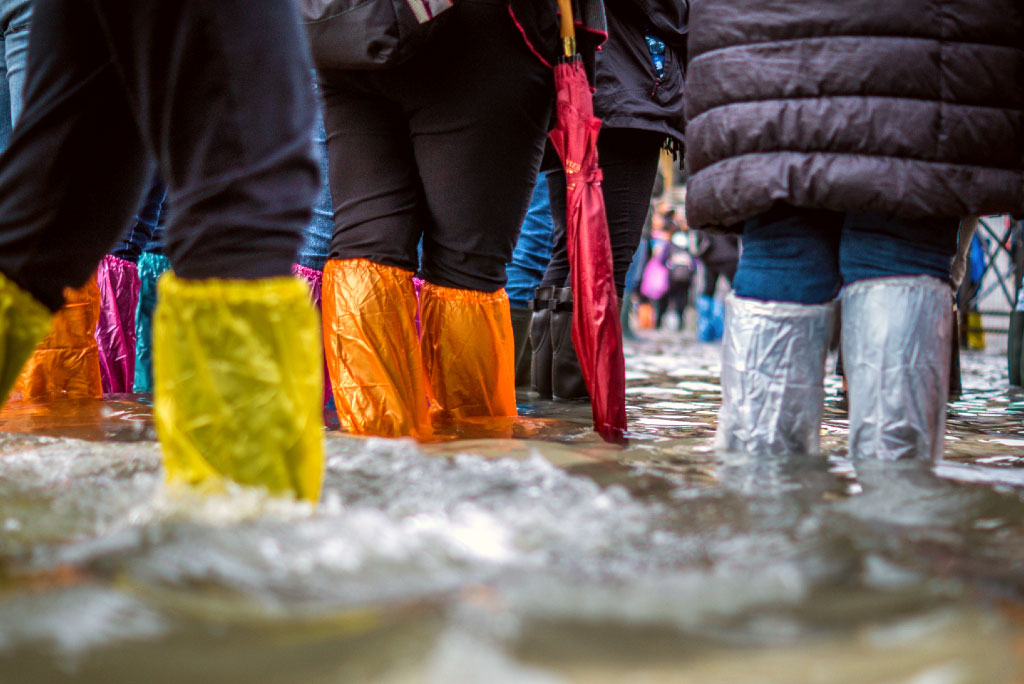 The COVID-19 pandemic has brought unprecedented disruptions to the world. The disease itself and the containing measures brought societies and many public services to an abrupt halt.
Flood risk management is, without exception, affected by such disruptions. Infrastructure development, planning and coordination, monitoring, and capacity building activities are all suspended. The public sector, on which flood risk management heavily relies, has been forced to redirect attention and resources to manage the pandemic, where they are needed most immediately.
But floods do not wait for the virus to go away. The 2020 flooding season in the People's Republic of China has arrived earlier than usual, just as the country reemerged from an unprecedented large-scale lockdown. By mid-August 2020, flooding had affected 63.5 million people, with direct economic losses standing at $25.9 billion. The floods also claimed 219 lives and displaced 4 million people through emergency evacuations.
In large parts of Bangladesh and India, record setting rainfalls have caused rivers to swell to dangerous levels, claiming more than 1,000 lives and displacing millions. Government officials have struggled to provide temporary shelters while maintaining social distancing. Other emergency relief organizations find themselves unable to reach out and deliver life-saving essential supplies due to many COVID-19 related restrictions.
During difficult circumstances such as this, people find innovative solutions by working together.
In Chongqing, a mega city located along the Yangtze River in the People's Republic of China, flood managers and public health officials are for the first time working together on environment and pandemic management. They originally planned to build a flood and pollution risk management system, in what was a pilot effort to put together different environment problems, and find common solutions using shared resources and expertise. The system also aimed to get people to work together early on before the problems happen.
With the outbreak of COVID-19, the managers quickly expanded the system to include responses to the public health emergency. The original multi-agency flood and pollution response and communication system was modified to accommodate the needs of public health management.
These changes include establishing working relations between flood and health managers, expanding environmental monitoring to cover not only extreme weather conditions, floods, and pollutants from industry, but also waste water from healthcare facilities and isolation centers. Smart infrastructure such as multi-function emergency shelters are reconfigured with portable medical equipment to accommodate flood and acute pollution evacuees as well as infectious disease patients. The changes turned the environment management facilities and systems into extensions of health facilities which allowed non-health personal and infrastructure to support large scale emergency responses.
This type of collaboration can be useful in countries prone to frequent natural and manmade disasters, where disease and environment monitoring is weak, financial resources are tight, and institutional coordination needs strengthening.
Countries can plan for emergency situations caused by large scale disasters and health emergencies. Such planning includes public awareness campaign and education, environment monitoring, disaster and pandemic early warning, multi-agency coordination and mobilization of citizens and resources.
We can break silos and work together to prepare for many types of public emergencies. These include natural disasters such as floods, earthquakes, typhoons, and wildfires, many of which are getting worse with the effects of climate change; human induced environment disasters such as acute pollution; and sudden outbreaks of infectious diseases. After all, there is already much expertise and many resources existing in different sectors such as environment, urban management, agriculture, forestry, telecommunications, transportation, and health.
By working together, we can mobilize more resources from different sectors into a common pool to respond to various emergencies. This way there is more available emergency response expertise and personnel, more information and public communication channels, and more infrastructure and equipment. A common pool also helps to make resource use more efficient. It may be rare for any of the above-mentioned crises to happen. But when they do, they put immense pressure on the resources available to individual departments.
There are already good examples. Sports complexes, schools, and city halls are often used as emergency shelters for typhon or earthquake evacuees, and as temporary COVID-19 isolation facilities. These examples show that natural and environment management facilities can help strengthen public health management, which in turn improves medical care for injured evacuees should such events happen.
To maximize such benefits a coordinated approach is required, and several dimensions should be considered, including high-level planning and response mechanisms that bring together departments and agencies; coordinating and working across sectors, or areas of expertise; information sharing and technical know-how among groups that do not usually work together; sharing infrastructure, equipment, and other facilities to keep costs down and support those areas most in need; increasing public awareness and training for emergency response.
With new waves of infections observed in many countries, the pandemic is unlikely to disappear anytime soon, putting prolonged pressure on limited social, financial, and technical resources. It is time to break sectoral silos, establish "unlikely" partnerships, and expand to a whole-of-society approach to cope with the many disasters and crises that are increasingly threatening development outcomes.