Brief
Good Practice: Health Education to Promote COVID-19 Vaccination in the PRC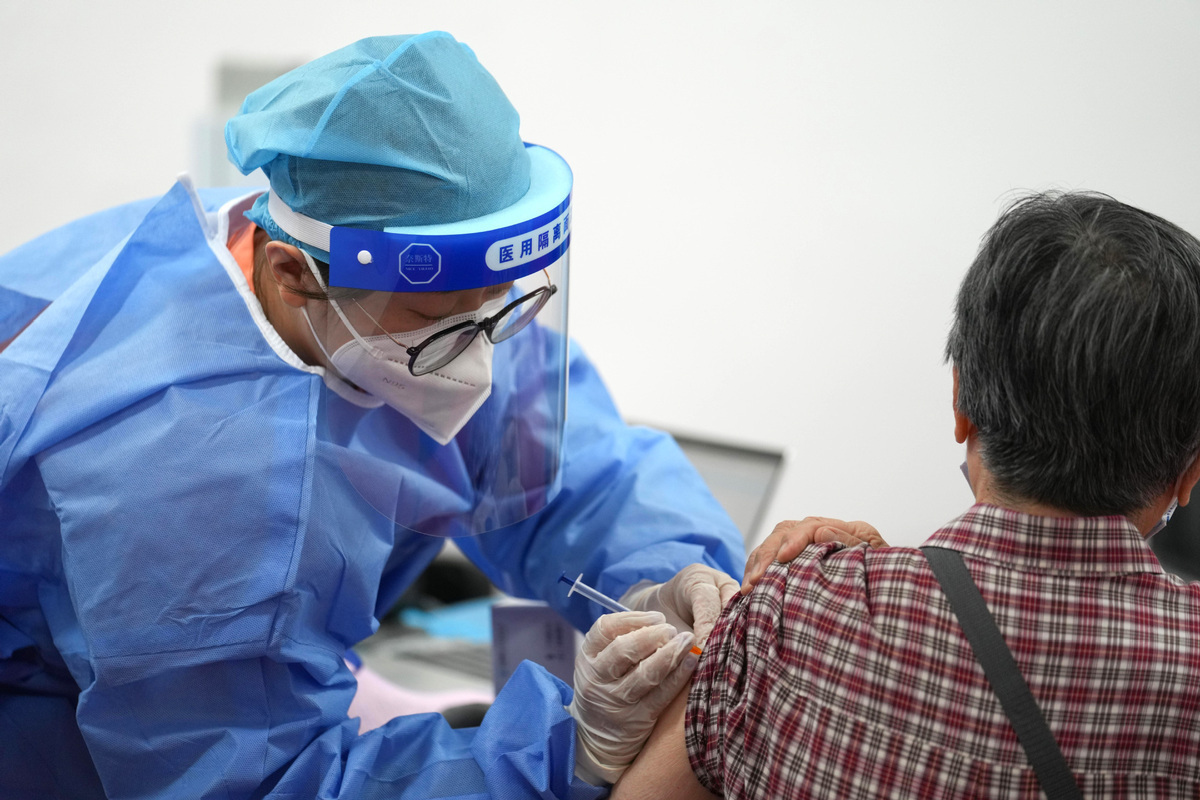 The PRC has fully vaccinated 90% of its 1.413 billion people. Health education and promotion have been crucial to achieving such a high rate of protection.
Background
The success of coronavirus disease (COVID-19) vaccine development has been key to ending the pandemic. The vaccines have not only prevented transmission but also reduced the rates of severe COVID-19 and mortality. To build herd immunity, the PRC has vaccinated almost everyone since four vaccines were conditionally approved on 31 December 2020.1 Although the vaccines have controlled the pandemic and their benefits have been clearly demonstrated, a significant proportion of people still refuse to be vaccinated. A well-designed health education approach to overcome vaccine hesitancy is important to improve vaccination rates.
The PRC's vaccination strategy
The national vaccination strategy has three steps:
Vaccinate populations at higher risk of infection, such as health-care professionals, customs staff, airport employees, teachers, community health workers, and others whose work puts them at risk.
Vaccinate the elderly (60 years or older), adults with medical conditions, and those over 18.
Vaccinate the whole population, including children and adolescents, as vaccine supply is guaranteed.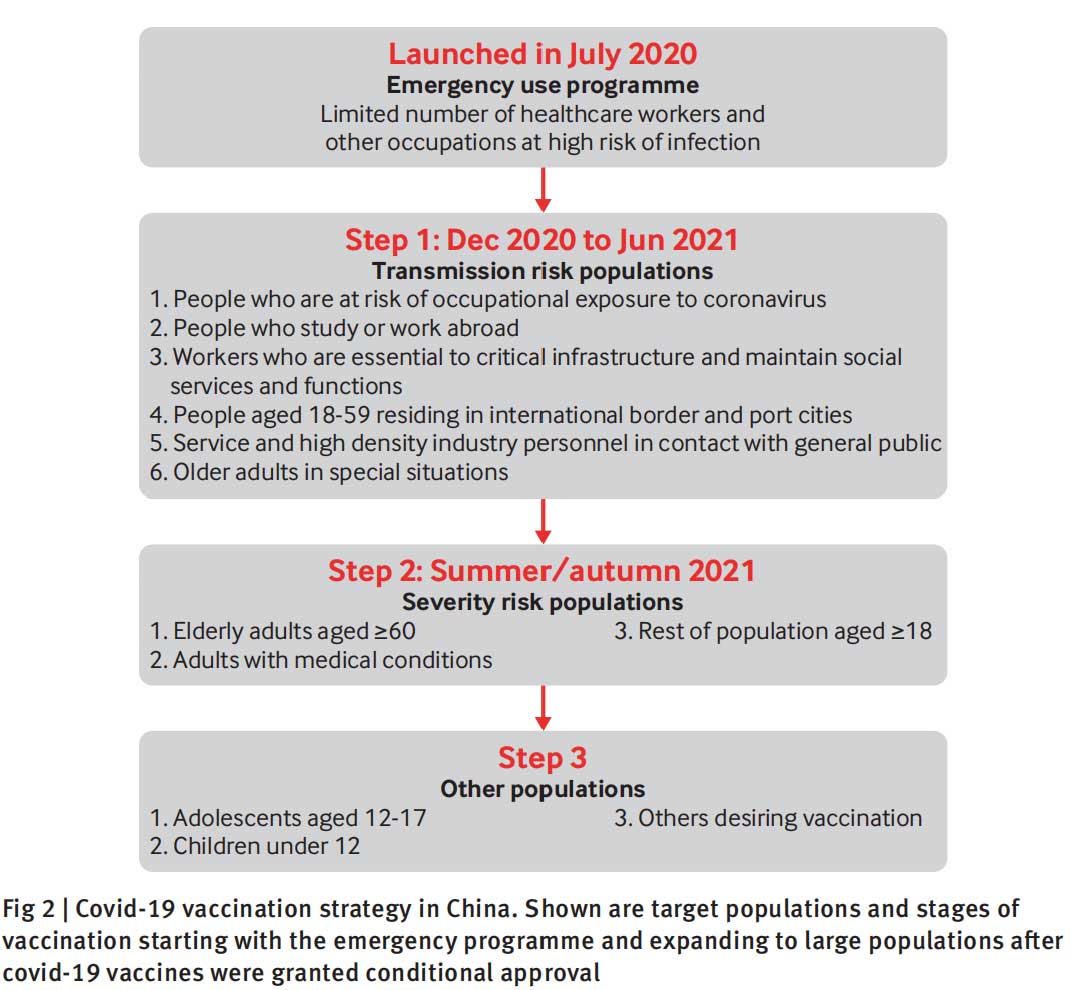 Source: Z. An, F. Wang, A. Pan, Z. Yin, L. Rodewald, and Z. Feng. 2021. Vaccination Strategy and Challenges for Consolidating Successful Containment of COVID-19 with Population Immunity in China. BMJ. 1 (375): e066125.
Health education strategy
Because the COVID-19 vaccine was an innovation, many people took a wait-and-see attitude toward vaccination.
A Beijing Municipality survey in May 2020 found that about 70% of the respondents were willing to be vaccinated.2 The most cited reasons for refusing the vaccine were that (i) production was rushed and thus the vaccine was dangerous, (ii) the vaccine was useless because COVID-19 was "harmless," (iii) the vaccine's efficacy was doubtful, (iv) respondents believed they were already immune, and (v) the vaccine's provenience was uncertain.3
To increase vaccine coverage, health workers and other responsibility bearers should improve people's vaccine knowledge and attitudes. Health education and health promotion include policy advocacy, social mobilization, community engagement, communication and dissemination of health information, and effective evaluation.
Policy advocacy and social mobilization. The government released policies and regulations early on to make vaccination accessible and safe. The measures covered equitable access, vaccination location and scheduling, vaccine supply with cold chain infrastructure, health-care service staff training in vaccination, and vaccination management.4 The government formed joint working teams from multiple sectors to expedite vaccination.
Dissemination of vaccination knowledge and information. The government developed and distributed health education and information material targeting different groups. Agencies used various channels or media, such as government press conferences, government websites, TV, radio, posters, leaflets, question-and-answer kits, and social media platforms such as WeChat official accounts and WeChat videos. The aim was to spread knowledge on the COVID-19 vaccine: why it was important to get vaccinated, the benefits of vaccination, how to make a vaccination appointment, and who were eligible for a vaccination, among others.
Community engagement. Community organizers aimed to encourage residents, especially older adults, to get vaccinated. Community engagement not only provided health education for target groups but also organized residents to make appointments and provided transport to vaccination sites, including community health service centers, centers for disease control (CDCs), hospitals, and clinics.
Community health education included (i) delivery of key health messages through banners, announcements (vaccination rates and numbers on neighborhood boards), and community WeChat groups; (ii) community lectures by professional and technical personnel, followed by questions and answers and discussions; (iii) counseling on vaccination through a hotline; and (iv) health education and counseling during home visits by community health workers and volunteers.
Organization involvement. Organizations, including institutes, enterprises, schools, and companies, were among the best promoters of health education. Their activities included mobilization meetings, posting information on websites, and announcements on public boards. To expedite vaccination, for example, organizations scheduled their workers' shots in the workplace.
Vaccinating older adults
Vaccinations are one of the most widely accepted preventive services in the PRC. Vulnerable populations such as elderly adults and people with underlying chronic diseases need them most. In March 2021, Beijing became the first city to vaccinate those 60 years and older. However, the elderly vaccination rate is lower than in Europe, the United States, and other Asian countries because elderly Chinese know less about vaccination and are more hesitant to get vaccinated. Awareness of COVID-19 vaccines must be raised and public confidence in vaccines heightened. Take what Beijing authorities did as an example:
What did the elderly need? Health workers assessed the needs of the elderly through home visits and community meetings. The Beijing CDC used the results to develop a health education plan:
Key point for health education 1
Assess needs to understand the target group, what factors influence its members' decision on vaccination, including barriers and facilitating factors (who, what, why).
Who was the target group? Those aged 60 years and older.
Why didn't people want to be vaccinated? They (i) believed that vaccines were not safe, (ii) were uncertain of the vaccine's effectiveness, and (iii) thought staying home meant no risk of infection.5
What content should be delivered? Based on the needs assessment, health education professionals summarized the concerns that must be tackled when disseminating information about vaccination:
Six key questions that need to be answered about the COVID-19 vaccine
Why do the elderly need to be vaccinated?
What if the elderly have side effects?
Why do the elderly need three doses of the vaccine?
If the unvaccinated elderly stay home, are they safe?
Is the vaccine safe for the elderly suffering from hypertension, diabetes, and coronary heart disease?
Why should the elderly be observed for half an hour after vaccination?
Key point for health education 2
Design dissemination methods based on the best way to reach target groups (when, where, how).
Designing dissemination methods
Those reaching out to target groups must understand when, where, and how to deliver health messages.
When. Health educators must know when to release scientific data. Evidence from Hong Kong, China demonstrated that of those who died at a median age of 86 years, 92% had had a long history of illness and 72% had not been vaccinated.6 The Beijing Health Commission used published and reported data on Hong Kong, China to promote vaccination among the elderly. Health educators used scientific data when publishing in official webchat accounts and websites. Counseling of the elderly on vaccination increased.
Where. WeChat became the most popular channel for getting information, messages, and knowledge to people. Health education materials were published by the Beijing CDC WeChat account and posted by district CDCs and others on their websites.
How. The needs assessment showed that the elderly got health information mainly from family members, TV, posters, and WeChat videos and that they trusted health experts and key opinion leaders.
Posters showing the elderly being vaccinated. Health educators designed posters using images of elderly advocates or endorsers getting vaccinated.7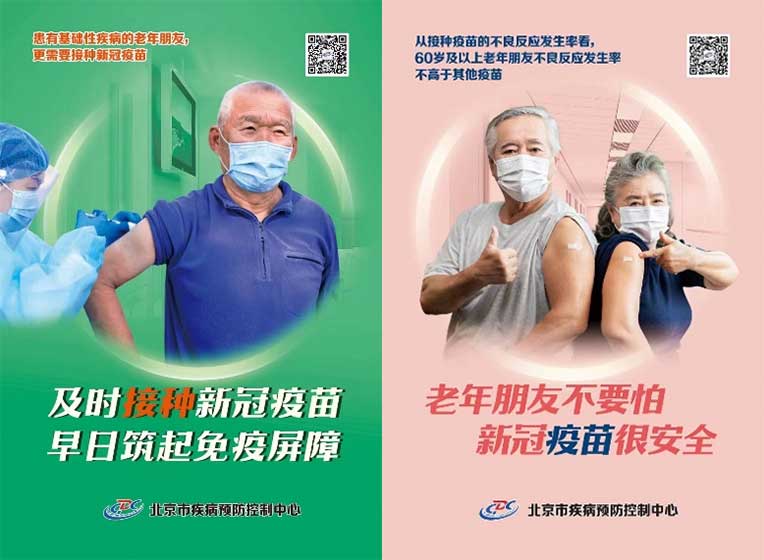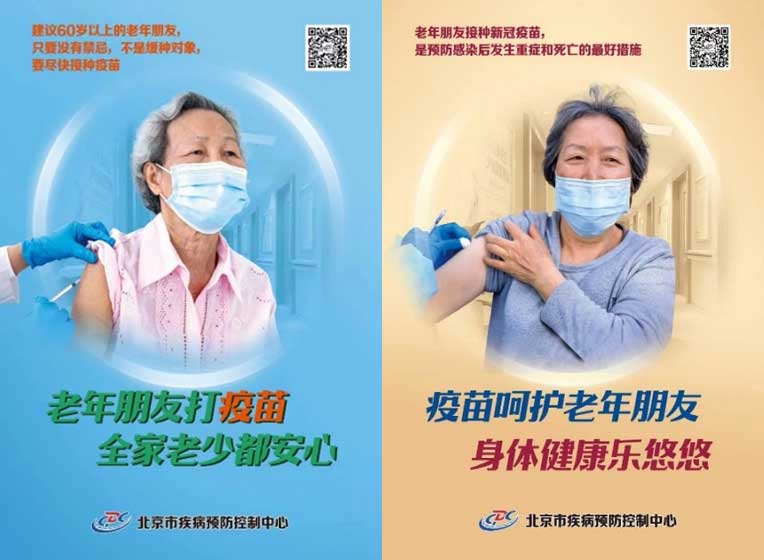 Posters promoting vaccination of older adults
Posters showing key opinion leaders' answers to questions. The top national experts are the most respected and trusted by the elderly. Posters used such an expert for posters showing Six Questions and Answers on vaccination.8 Dr. Guiqiang Wang is a famous chief physician of infectious disease, a member of the National Expertise Team on COVID-19 Prevention and Control, and director of the Infection Department of the First Affiliated Hospital, Peking University. The posters were published in People's Daily WeChat, the most respected and trusted official account.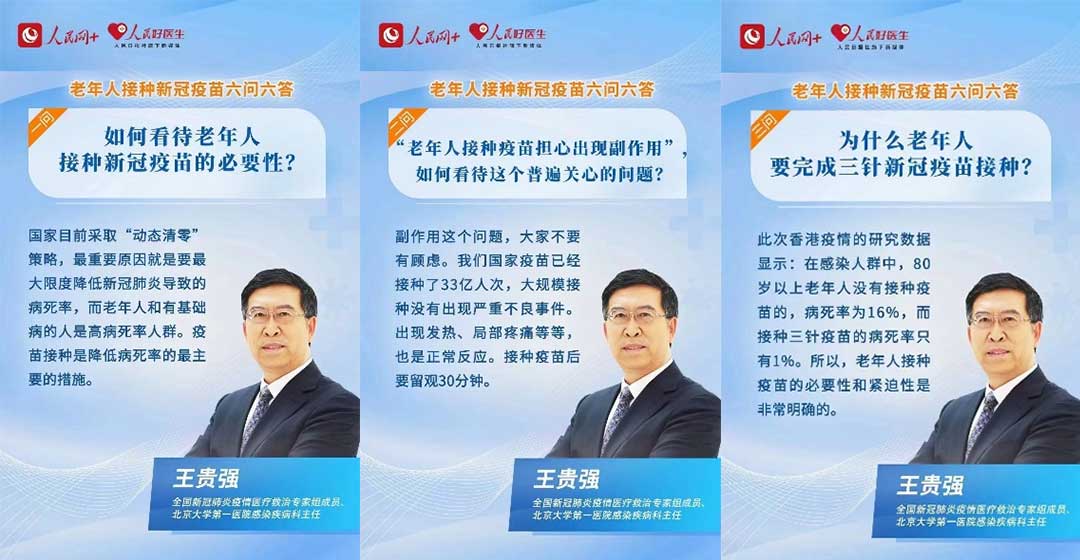 Six Key Questions and Answers by Dr. Guiqiang Wang
BTV WeChat video. Yang-Sheng-Tang [养生堂, How to Stay Healthy and Live Long] is a highly popular TV show among the elderly. A mini video was shown on the Beijing Satellite TV official WeChat.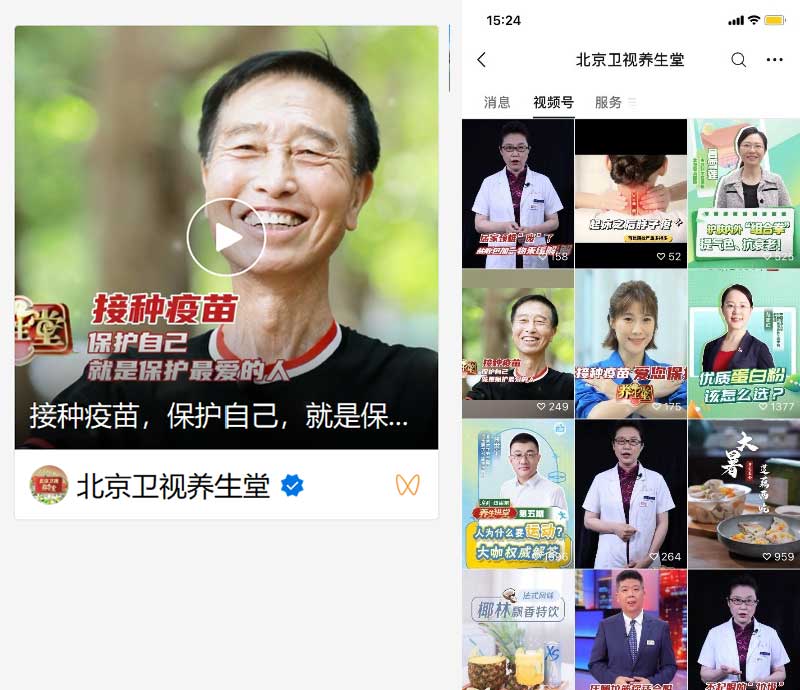 Mini video: Vaccination, to protect yourself and the people you love most 
Effectiveness
By April 2022, the elderly vaccination rate had reached 80% in Beijing.9 By August, a total of 3.43 billion doses of the vaccine had been administered in the PRC, and 1.27 billion or 89.9% of the total population had been fully vaccinated. A total of 239 million people over the age of 60 (90.24% of all elderly) had been vaccinated and 226 million (85.33%) had completed the full course. A total of 176 million elderly had received booster shots.10
1 Press conference by the Joint Prevention and Control Mechanism of the State Council, 31 December 2020.
2 R. Ma, L. Suo, L. Lu, et al. 2021. Willingness of the General Public to Receive the COVID-19 Vaccine During a Second-Level Alert—Beijing Municipality, China. CCDC Weekly. 3 (25):7. 
3 G. Troiano and A. Nardi. 2021. Vaccine Hesitancy in the Era of COVID-19. Public Health. 194 (2).
4 COVID-19 Vaccine Technical Working Group. 2021. Technical Vaccination Recommendations for COVID-19 Vaccines in China. CCDC Weekly. 3 (21).
5 R. Ma, L. Suo, L. Lu, et al. 2021. Willingness of the General Public to Receive the COVID-19 Vaccine During a Second-Level Alert—Beijing Municipality, China. CCDC Weekly. 3 (25): 7.
6 Government of the Hong Kong Special Administrative Region of the People's Republic of China. Together, We Fight the Virus!
7 Beijing CDC WeChat official account.
8 People's Daily WeChat official account.
9 Baidu. 2022. 北京60岁及以上人群新冠病毒疫苗接种率超80% [Over 80% of people aged 60 and over in Beijing have been vaccinated against COVID-19]. 13 April.
10 Press conference of the Joint Prevention and Control Mechanism of the State Council, 8 July 2022.