Op-Ed
Meeting Challenges of an Aging Society
Yolanda Fernandez Lommen
30 Jul 2021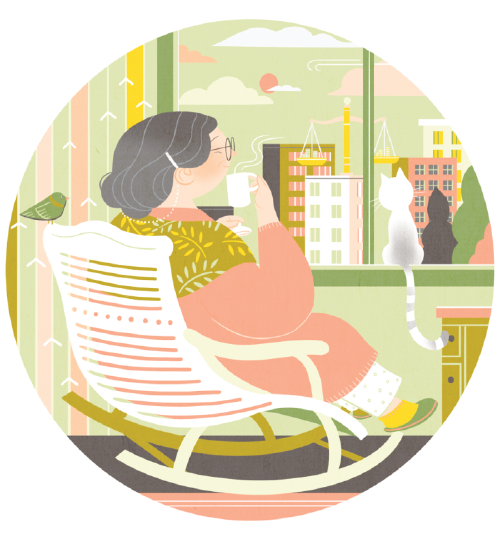 The population in the PRC is aging rapidly. The proportion of people aged 60 or above is expected to increase to 35 percent by 2050, turning the population into one of the oldest in the world. While aging poses great challenges, if managed well, these can be overcome to create opportunities.
Reforms for fostering labor mobility and upgrading human capital will reduce the labor shortages stemming from an aging population. Greater public and private investments to strengthen elderly care services and facilities will create employment opportunities and improve people's well-being.
Benefits of greater labor mobility
Mobility restrictions in the PRC-the household registration system (hukou) and inability of migrants to claim social security benefits away from home-discourage transfers from provinces where there is a surplus of labor to ones where there is a deficit. Re-allocating labor from low- to high-productivity sectors could add several percentage points to GDP growth. And accelerating the ongoing relaxation of the hukou policy and social security reforms for migrant workers to gain access to social services and benefits in their place of residency will remove such institutional mobility barriers.
The benefits of greater mobility can be maximized through increased investments in human capital. Gross enrollment rate in the PRC's senior high schools and the percentage of population with tertiary education in scientific and technical subjects need to increase. The growing digitalization of the economy adds pressure to the task.
While new learning methods should encourage lifelong learning, creativity, innovation, and problem-solving skills, incentives must be introduced for companies to provide on-the-job training, and initiatives to re-train workers whose skills are obsolete to prolong their participation in the labor force.
Increasing female participation in the labor market will also help maintain the labor supply. Although gender gaps in education have largely closed, female workforce participation has declined over the past decade, and women continue to bear a disproportionate responsibility for unpaid care work at home and remain under-represented in scientific research and high-technology industries and services. Policies for equal employment opportunities, increased maternity leave, improved support for childcare, elderly care, and single mothers, are essential to attract and maintain women in the labor force.
Better services and care for the elderly
Under the PRC's 14th Five-Year Plan (2021-25), development of an efficient long-term care (LTC) system is a government priority. Insufficient elderly care facilities result in unnecessary admissions in acute care hospitals and are a waste of healthcare resources. Improved home- and community-based LTC can address this issue. Incentives to develop home- and community-based services, such as home help, home care, and home nursing services, and center-based services to support the elderly are critical to meet the"90-7-3 older persons care pattern "launched during the 12th Five-Year Plan (2011-15) period in which 90 percent of the elderly population should receive home-based care, 7 percent community-based care, and 3 percent institutional care.
More affordable elderly residential care for lower-income households that need assistance is part of the solution. These facilities can be funded by a mix of government support, individual pension contributions, and private sector involvement. This approach is emerging in the PRC but needs to be strengthened. These efforts will benefit from a shift in the role of the government from supplier to regulator for the provision of LTC. Examples of government tasks include setting policies and standards, subsidizing people who cannot afford the private facilities, and incentivizing private sector participation, which can engage in effective models of public-private partnerships.
Incentives and policies need to be improved
At the same time, incentives and policies to retain and train LTC givers must improve. Professions crucial to a well-functioning elderly care system, including nurses, physiotherapists, occupational therapists, nutritionists, medical specialists (that is, neurologists, specialists in geriatrics), social workers, service providers, and managers must expand. The number of professionals in paramedical, medical, social work and elderly care management should also increase, as those will result in better care and improved services for the elderly, as well as significant employment opportunities.
Addressing the needs of an aging society is costly. Public healthcare expenditure in the PRC stands at 2.9 percent of GDP compared with the 6.5 percent average in the Organisation for Economic Co-operation and Development countries, where LTC alone amounts to 1.7 percent of GDP. the PRC has made significant progress in extending health insurance coverage universally, but out-of-pocket payments still account for about half of the total health expenditure, exacerbating the vulnerability of lower-income households. Expanding health insurance coverage, reducing co-insurance rates, and introducing ceilings on maximum out-of-pocket payments are reforms that have proven effective in other countries.
Increased funding should not threaten fiscal sustainability. A more progressive taxation system, the further liberalization of energy and resource prices, and the introduction of environmental and property taxes would increase social spending without straining public finances. Policy reforms, too, can help. Affordable social services, higher pensions, and support to women through subsidies for childcare, baby bonuses, child grants, flexible hours, or part-time work, are key to lift fertility rates mitigating the impacts of an aging society.
While gradual increases in retirement age will strengthen labor supply and support the sustainability of the pension system, which is crucial for the success of a multigenerational workforce, age-friendly policies, such as more flexible work options, retraining, re-skilling, and age-friendly workplaces are important during the transition. Finally, the sustainability of the pension system is critical in an aging society. For that, the introduction of voluntary private pension funds, currently piloted in Zhejiang and Chongqing, needs to progress faster.