Op-Ed
Meeting Global Climate Ambitions through Regional Collaboration
Safdar Parvez and Thomas Panella
15 Dec 2022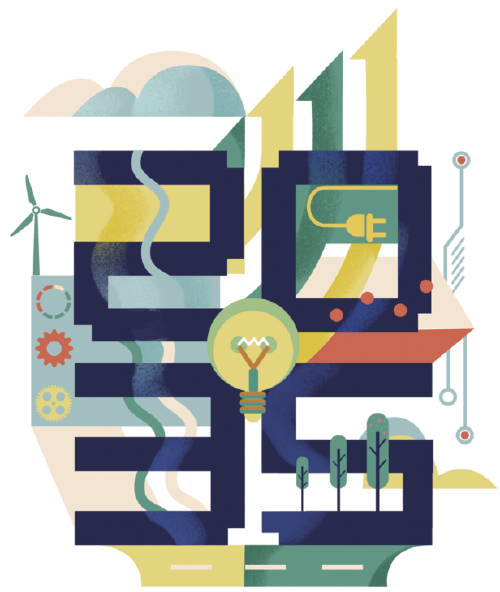 At the 27th United Nations Climate Change Conference (COP 27) in Sharm el-Sheikh, Egypt, from Nov 7-18, the global community came together to discuss how to accelerate climate action. The findings are clear — global climate commitments and needed action are set to fail in keeping global warming below the 1.5 degrees Celsius tipping point.
The impacts of climate change are becoming increasingly severe in Asia and the Pacific, and they demand our urgent attention and intervention.
The drought in Sichuan province this summer was a stark reminder of this reality. Home to 94 million people, Sichuan normally generates 80-85 percent of its electricity demand through hydropower. This constitutes around 25 percent of the PRC's overall hydropower generation; equivalent to that of France, Turkiye, and Norway combined.
When reservoir levels fell due to the extreme drought in August, hydropower could no longer generate sufficient electricity. The surrounding processor chip factories — dependent on hydropower — were forced to close, dealing a blow to the livelihoods of workers and their families. The incident also showed how climate change impacts are interlinked, as chips from Sichuan are critical components globally for smartphones, car manufacturing, and renewable energy technology.
The need to adapt to the impacts of climate change has never been more urgent. This requires unprecedented collaboration to drive innovative solutions, both scientific and financial, that can be shared across communities. By working together, we can leverage resources to prevent catastrophic damage to human health, our economies, and social well-being by reducing the severity of climate-induced disasters triggered by natural hazards, and by mitigating the damage done by slower onset impacts such as sea level rise and increased desertification.
The PRC's new National Climate Change Adaptation Strategy 2035 is an insightful and integrated endeavor to steer the country toward climate-resilient development. The strategy was prepared by the Ministry of Ecology and Environment, but released jointly by 17 national ministries, reflecting the urgency and deep understanding of climate change as a cross-cutting global phenomena. The Asian Development Bank and the Global Center on Adaptation are proud to have provided support to develop this new strategy.
The strategy emphasizes preparedness and prevention, and comprehensively addresses vulnerabilities such as extreme weather events. It also considers emerging threats such as climate-induced migration of vector-borne diseases. The strategy focuses on the need for sound governance, and on the social and economic impacts of climate change including on livelihoods, health, education and urban planning.
Crucially, the strategy pushes the boundaries of adaptation by suggesting approaches such as assisted relocation for residents who live in vulnerable areas considered "high-risk". Asia and the Pacific may see hundreds of millions of climate refugees by 2050 due to sea-level rise, extreme weather events, and water insecurity.
According to a study, eight Asian nations — the PRC, Bangladesh, India, Vietnam, Indonesia, Thailand, the Philippines, and Japan — account for 70 percent of people living on "at-risk land".
The PRC recognizes that the global climate challenge demands integrated solutions which address adaptation and mitigation simultaneously. For example, climate-smart agriculture promotes more resilient and sustainable production and value chains while reducing greenhouse gas emissions. Afforestation and wetlands amelioration and conservation offer resiliency benefits while sequestering carbon. This integrated approach is extremely important to leverage impact amid scarce resources and an increasing need for climate action.
The Asian Development Bank's Yellow River Ecological Corridor (YREC), launched in 2021, supports the regional climate adaptation priorities of the PRC's strategy. It is a comprehensive approach, designed to protect and restore the Yellow River basin's diverse and fragile ecosystems, address climate change mitigation and adaptation, and enable more equitable and sustainable green rural-urban economic development.
The YREC will partner with the Chinese government to develop a basin climate risk assessment report, establish a climate change management framework, and prepare an adaptation plan. The strategy provides sound guidance for this work and serves as an excellent platform for climate engagement and action at the sub-regional level and among development partners.
It is also a meaningful tool to promote South-South cooperation, reflecting the global nature of the climate crisis. the PRC already has 38 climate change cooperation agreements with other countries. It has helped to develop community-led early warning systems for floods and provided micro-satellites and meteorological mobile stations to Ethiopia, Bolivia, and Uruguay, while supporting climate-related capacity development in over 100 countries.
As we move to implement COP 27 agreements, the 1.5 degree aspiration remains. Time is running out for action to mitigate climate change, and the economies of Asia and the Pacific are uniquely vulnerable.
The PRC's National Climate Change Adaptation Strategy 2035 provides a tangible national blueprint that can help guide other countries looking to prepare climate change action plans. These plans require large amounts of financing, yet climate action must also be seen as an opportunity, not only as a cost. Smart climate investments create new business ventures, help communities become more resilient and sustainable, and integrate climate awareness and action across the economy and wider society.
We need to work together on climate action to provide finance and sound governance, foster knowledge and planning, seek innovation, and share capacity development to secure a sustainable and resilient Asia and the Pacific.