East Asia Blog Series
Planting the Seeds for an Environmentally Sustainable Future
Xin Shen
17 Oct 2023

Overview
Pingjiang in Hunan province was listed as a poverty-stricken county in the People's Republic of China (PRC) until March 2019. Back then, the ecological environment of Pingjiang was under pressure from inadequate wastewater and solid waste facilities in rural areas, nonpoint source pollution from intensified crop and livestock farming, occasional industrial pollution, and frequent flooding. Improving the living environment could help the county attract more investments that would create jobs and income-generating opportunities.
In 2020, the Asian Development Bank (ADB) worked with the Pingjiang County government to design a project that incorporates nature-based solutions and circular practices to address environmental challenges and improve quality of life. ADB recommended that the project include awareness-raising programs in local schools and communities for environmental protection and green development.
Despite the lagging economic status of Pingjiang, its education system outperformed other counties for years, benefiting from an excellent educational tradition and high-level policy support to promote education for poverty reduction. The county government adopted ADB's recommendation to mainstream environmental education in schools and improve the environmental literacy of residents by engaging students' families through targeted outreach activities.
This case study shares the progress of the environmental education component in the third year of project implementation. It demonstrates the important role of the community in ensuring a better living environment.
Context
Covering an area of 4,125 square kilometers, Pingjiang County is located on the eastern margin of Hunan. Its total population is about 1.1 million, with an urbanization ratio of 46%. The Miluo River runs through the county and flows into Dongting Lake. The river also serves as the main source of drinking water for the county.
In 2019, about half of all rural villages in Pingjiang lacked household sewage or wastewater treatment facilities. Agricultural nonpoint source pollution had worsened water quality in the region. These, coupled with inadequate management of solid waste, had a significant negative impact on the rural living environment. The Miluo River was also subject to recurrent flooding, causing damage to the economy and the environment, and posing a serious risk to people's lives and livelihoods.
To improve the rural living environment in Pingjiang, ADB approved the Hunan Miluo River Disaster Risk Management and Comprehensive Environment Improvement Project in November 2020. This $150-million loan invests in water-related disaster management, sanitation services enhancement, and eco-farming demonstration. In addition to investment activities, mainstreaming environmental education in the local educational system was specially designed as a project component to drive a fundamental change in mindset about environmental protection.
Challenge
Although the county government was committed to achieving environmentally sustainable economic development then, the overall environmental literacy of local communities was low, illegal mining and pollution discharge by small enterprises continued to occur, and rapid economic development and changes to traditional lifestyles were accelerating environmental pressures.
Awareness-raising activities carried out by the government often directly called for certain actions or simply disseminated textbook-type knowledge without cultivating attitudes and values that support environmental protection. This resulted in limited active participation by local communities in county initiatives. For example, the potential for reducing environmental impacts through the "reuse, reduce, and recycle" initiative was largely untapped.
There are about 350 primary and middle schools and around 138,000 students in Pingjiang. Exam-oriented education was the dominant goal in schools and families. Before the project, environmental protection was already part of moral education in schools, but it was often delivered through a one-way, lecture method and squeezed into limited teaching time, which substantially weakened its effectiveness. Also, students were often distracted by electronic devices, and they became increasingly disconnected from nature.
Solutions
The Pingjiang Education Bureau and ADB jointly designed the project activities on environmental education. The bureau identified more than 100 schoolteachers who were interested to act as the catalysts for environmental education in Pingjiang.
Building teachers' capacity. To equip teachers with the necessary knowledge and skills to effectively deliver environmental education, the project organized a range of training programs and study tours for the teachers on natural play, environmental education activities for different types of fields, typical environmental issues, environmental education course design, and environmental education theories and outcomes.
Adding environmental education to school activities. The teachers incorporated environmental education elements into various existing school activities, such as regular classes, labor education programs, science and technology club, and mental health counseling.
Fostering hometown pride. The Pingjiang Education Bureau selected and grouped elite students and teachers to work with environmental education practitioners in developing reading materials for students and citizens that promote love for their green hometown. The books guide the readers to think globally, act locally, and live personally for environmental protection. In contrast to textbooks, these readers forge students' bond with their hometown by highlighting Pingjiang's strengths, discussing its environmental challenges, and exploring solutions to such issues.
Acting collectively at school. Teachers organized a variety of school and class activities for students' active participation. Some schools arranged field trips to the landfill site and waste incineration plant. In other schools, students pioneered milk carton recycling through project-based learning. As a club activity, some students established "a recycling company" to operate the school-wide collection and recycling of old books and used papers.
Engaging families through children. The Pingjiang Education Bureau combined environmental education with family education during students' vacation. Students and parents were urged to work hand in hand in building a green and harmonious family. The bureau first prepared the families through lectures at mobilization meetings. Then, a family's environmental action was agreed upon through a why-how-what family discussion. The chosen action was carried out during the vacation and documented. Finally, the students summarized the activity and reported on the before and after situation and their reflections.
Speaking for nature. Since 2021, more than 300 primary and secondary schools in the county have participated in the annual speech competition "Green Home in My Heart." Students share their stories based on on-site research and/or personal experience, express their thoughts and insights, and also call on everyone to be practitioners and promoters of a green Pingjiang.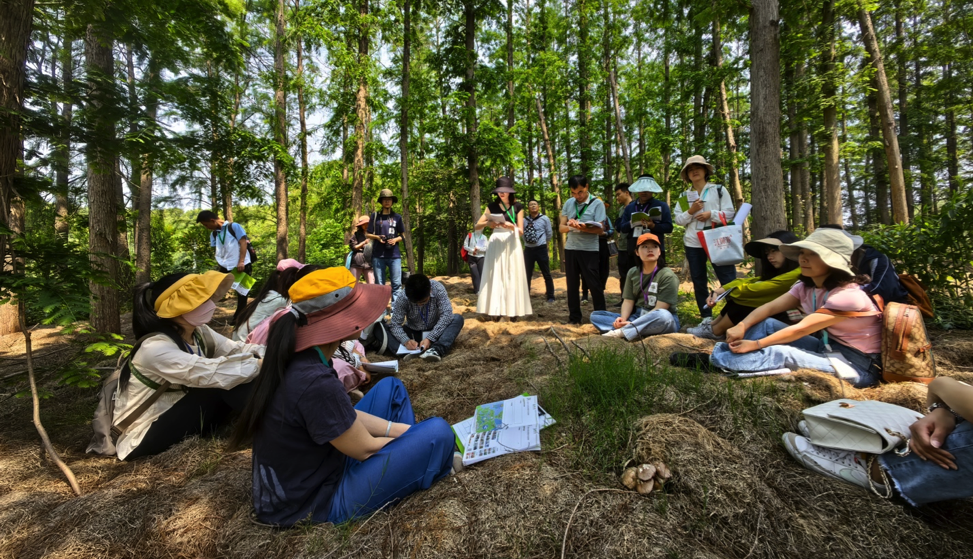 Results
As of this year, about 150 personnel, including teachers, educational bureau staff, environmental facility operators, and project management officers, received environmental education-related training. They have applied their new knowledge and skills in school education. A core team of around 40 teachers was created for piloting activities, developing environmental readers, and training new talents. Forty-one schools were identified for development into environmental education schools.
About 138,000 students and 25,000 families actively engaged in environmental education activities. A Pingjiang Environmental Education Reader for junior high school students was prepared jointly by 16 teachers, 50 students, and environmental practitioners. The readers for primary school, high school, and citizens are currently under development. A total of 2,200 students participated in milk carton recycling, following the findings of the first batch of students who underwent project-based learning. A study on irrigation design to cope with drought by a group of high school students—members of a science and technology club—won first prize at the provincial science and technology innovation youth competition.
Environmental education activities organized by the teachers were enriched and diversified to promote active learning in comparison with lecturing and one-off group activities in the past. Students are better motivated by their experiences to study environmental issues and commit to behavioral change.
The Pingjiang Education Bureau will continue its efforts in creating a comprehensive, diversified, and sustainable environmental education system; building model schools; and strengthening the collaboration between schools, families, and society for environmental protection.
Lessons
The project's achievements in environmental education cannot be achieved without the champions in Pingjiang Education Bureau and the support of the bureau's leadership as well as the enthusiasm of local teachers.
Experienced nongovernment organizations and social enterprises in the environmental education field served as external advisors for the Pingjiang Education Bureau. Initially, the bureau invited university professors to provide technical support, but their academic style did not suit the project's practical needs.
The development of higher education on environmental protection in the PRC was lagging compared with developed countries. There were gaps to bridge in terms of professional talent, education theory, curriculum development, and teaching methodologies. International experiences can provide valuable reference.
An environmental issue often involves multiple disciplines. Solving practical environmental problems is a good opportunity for students to comprehensively apply their knowledge and skills. Therefore, environmental education can bring students a variety of benefits: academic achievement, critical thinking and problem-solving skills, personal growth, and joy. It also provides students with extra motivation for self-development and a great sense of self-efficacy.