East Asia Blog Series
Rehabilitating the Chao Lake Basin in the PRC
Xin Shen
23 Oct 2023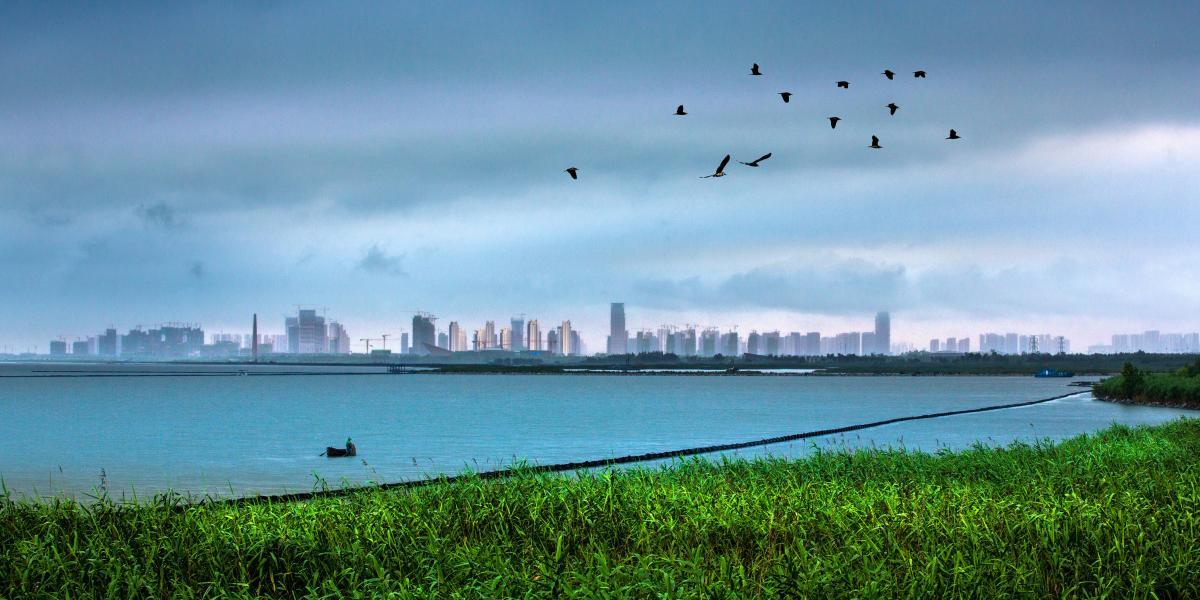 Overview
The area around Chao Lake, the fifth-largest freshwater lake in the People's Republic of China (PRC), has experienced tremendous economic growth from 2000 to 2009. This has resulted in a 30% increase in the urban population within the lake basin catchment and a fivefold increase in gross domestic product (GDP). However, this remarkable progress came at an environmental cost. In 2010, the lake's overall water quality was considered Class V, the worst grade under the PRC's national environmental water quality standard.[1]
To decouple economic growth from environmental degradation, the Anhui Provincial Government crafted the Master Plan for Integrated Water Environmental Management of Chao Lake Basin (2008–2020). This unprecedented plan set forth a basic framework aimed at enhancing the water quality of Chao Lake while safeguarding its economic, ecological, and aesthetic values by adopting the integrated water resources management approach.
The Asian Development Bank (ADB) was invited by the Anhui Provincial Government in 2010 to support the implementation of this master plan through its lending program. The Anhui Chao Lake Environmental Rehabilitation Project put a great emphasis on institutional capacity building to support the then newly established Chao Lake Management Authority that has primary authority and responsibility for managing the lake. It is the first lake or river management agency in the PRC that has a sufficiently comprehensive management purview and the first to deal with all aspects of the water cycle.[2] The project also made significant engineering investments toward controlling nonindustrial municipal point source pollution and nonpoint source pollution.
With the help of the Anhui Chao Lake Environmental Rehabilitation Project, the lake's water quality began to show signs of recovery. By 2021, the lake's water quality improved to Class IV,[3] while the basin economy experienced increased GDP at an estimated 11% compound annual growth rate.
The project offers valuable insights on supporting new river basin authorities for integrated water resources management and offers replicable lessons and best practices that other regions within and beyond the PRC could benefit from.
Context
The Chao Lake basin covers 13,545 square kilometers or about 10% of the total area of Anhui province, with some 40 tributaries belonging to seven major river systems flowing into it. The lake serves as a crucial component of the province's industrial and agricultural water supply, water transport, tourism, and recreational activities. The population in the basin totaled about 11.9 million in 2020.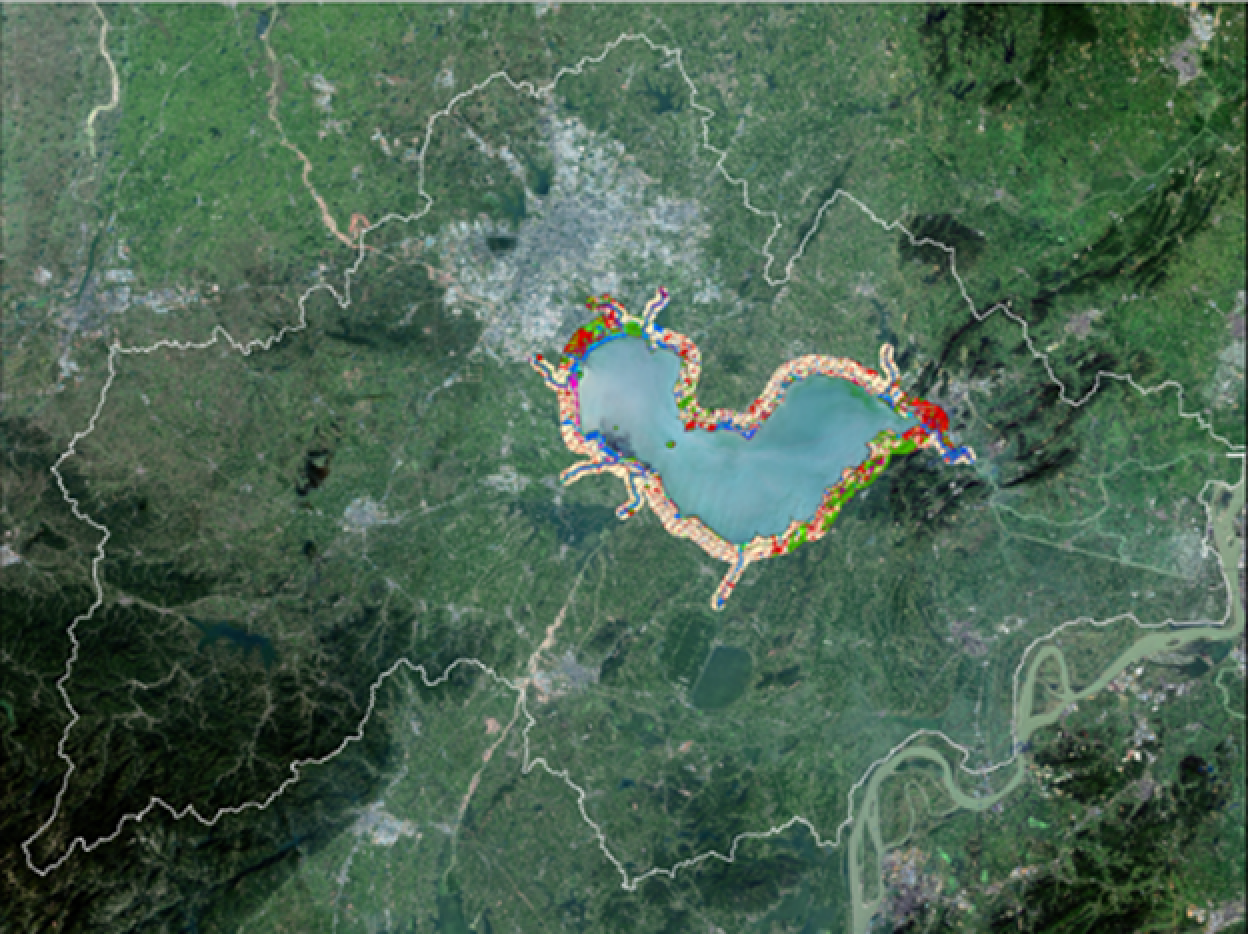 The lake's water environment has suffered significantly because of the adverse effects of rapid economic growth and urban development since 1990. Recognizing its poor water quality, the national government designated it as one of three priority lakes for environmental rehabilitation in 1996.
Despite substantial resources being invested in controlling pollution within the lake basin and industrial pollution being largely under control by 2010, Chao Lake continued to be besieged by excessive amounts of organic matter, nitrogen, and phosphorous, which contributed to it retaining a Class V water quality status in 2010.
Challenge
Back then, the primary pollutant sources in the Chao Lake were nonindustrial municipal point source pollution. The sewerage system coverage and wastewater treatment capacity in the urban area were woefully inadequate, leading to a considerable amount of untreated domestic wastewater in towns being discharged into water bodies.
The nonpoint source pollution was also significant and largely to be addressed, including waste from animal farming, nitrogen and phosphorous runoff from farmers' fields, unsewered rural households, resuspension of polluted sediments, and erosion of riverbanks during high flow conditions.
Pressures from economic growth and urban development were expected to continue, if not increase, based on strategic plans for the Chao Lake basin. The Anhui Provincial Government and the Ministry of Environmental Protection signed a cooperation agreement to manage the environmental implications of these developments, but concerns for increased water pollution remained.
In 2011, the Anhui Provincial Government established the Chao Lake Management Authority as one of the PRC's pioneering agencies tasked with overseeing all aspects of lake water quality and use. However, the agency faced challenges related to acquiring necessary knowledge and skills on integrated lake basin management due to limited precedents in the PRC to learn from and staff inexperience. It also needed to gain the cooperation of different sectors and agencies to effectively coordinate efforts related to lake rehabilitation.
Solutions
In 2012, ADB approved a $250 million loan aimed at enhancing the water resources and environment in Chao Lake and its upstream rivers. The project sought to improve residents' quality of life and ensure sustainability of the aquatic ecosystem within the lake basin. To achieve these goals, the project expanded and enhanced municipal wastewater treatment, made new investments in nonpoint source pollution control, and bolstered the institutional capacity of Chao Lake Management Authority through an integrated approach.
Capacity building included organizing training programs and study tours for staff, delivering a UNESCO–Institute for Water Education (IHE) capacity-building program, financing water quality monitoring equipment, and providing consulting services. The consulting services supported research on an integrated management mechanism for Chao Lake basin based on function zoning, blue-green algae early warning system development based on a water quality-water turbulence model, and water environment intelligent supervision and spatial data management system development.
The project constructed wastewater collection systems in developed urban areas where the wastewater was unsewered and untreated, and intercepted sewer discharges flowed directly into tributaries of Chao Lake. A total of 640 kilometers (km) of the sewer network and 15 wastewater pumping stations were constructed, expanding the capacity of the wastewater collection system by 540,400 cubic meters (m3) per day. The project also built 10 wastewater treatment plants with 176,000 m3/day treatment capacity.
The project dredged 112 km of river course to remove nutrient-rich sediments from the beds of rivers flowing into Chao Lake to prevent excessive plant and algal growth; built 160 km of embankment to reduce soil erosion and enhance the flood protection of adjoining lands; and implemented a solid waste collection and transfer subproject to control a troublesome source of floating objects. It also established 430 hectares (ha) of lakeside and riverine wetlands to reduce nutrient loads going into the lake, enhance habitats for wildlife, and absorb the wind-induced waves that break down the banks. It piloted nonpoint source pollution control in rural areas, focusing on agricultural pollution sources.
As part of nonpoint source pollution control measures, 20 training sessions were conducted in rural communities for technology-extension workers and local farmers on such topics as organic agriculture and certification of organic produce, nonpoint source pollution control technology, principle and method for fertilizer selection and application, green control of pest and diseases, and rice and shrimp co-cropping.
In total, 14 training programs and 14 study tours were organized for Chao Lake Management Authority staff. Capacity building activities covered river basin management and integrated water resources management, eco-compensation, innovative mechanisms on pollution control, regulation formulation and enforcement, ecological restoration and security, nonpoint source pollution control, water quality and hydrodynamics modeling, remote sensing and environmental monitoring, environmental impact assessment, and project management.
In addition, a UNESCO–IHE (Institute for Water Education) capacity building program supported the project through the following activities:
facilitated the development of a pilot institutional framework, which clarifies Chao Lake Management Authority's internal structure and jurisdiction in relation to existing provincial agencies,
assessed the technical and administrative training needs of staff,
developed the understanding and capacity of staff to apply the principles of integrated water resources management, and
established links between the Chao Lake Management Authority and lake and river basin management authorities elsewhere in the PRC and globally to facilitate the exchange of management experiences and knowledge.
Three consulting services packages for study and system development works were also implemented.
Results
Through the sewer network and wastewater treatment plant component, the chemical oxygen demand discharge was reduced by 22,313 tons per year, the ammonia nitrogen discharge by 3,142 tons per year, and the phosphorus discharge by 413 tons per year. Dredging activities removed about 2,506 tons of total nitrogen and 919 tons of total phosphorus from the Chao Lake and its tributaries. Constructed wetlands of 430 ha also helped remove about 15 tons of total phosphorus, 71 tons of chemical oxygen demand, and 36 tons of ammonia nitrogen each year.
Overall, the project benefited approximately 2.54 million people, of whom 49.1% are women and 8.2% from low-income households. Benefits included an improved living environment and better access to water resources. About 1,000 agricultural technology-extension workers and local farmers participated in training sessions on agricultural nonpoint source pollution reduction and environmentally friendly agriculture.
With the project assistance, the Chao Lake Management Authority established its authority and enhanced its capacity for managing the lake basin. Its human resources attained the staff skills needed to achieve its objectives. An information system and monitoring facility was established and has been issuing an annual monitoring report on the ecological health of the lake since 2017.
The government expanded the Chao Lake Management Authority's original mandate and entrusted it with a greater role in lake basin management. This enhanced the institution's sustainability as well as demonstrated the strong commitment of the Anhui Provincial Government to integrated water resources management in the lake basin.
The overall water quality in Chao Lake was restored to Class IV in 2021 from Class V in 2010. The water quality of the eight upstream rivers flowing into the Chao Lake with national control sections also largely improved. In 2021, the annual water quality assessment of the national control sections of the lake basin fully reached the required standard. Since 2021, the endangered Ciconia boyciana (Oriental Stork) and Emberiza aureola (Yellow-breasted Bunting) have become frequent visitors to the lake because of the improved aquatic ecosystem. This improvement occurred alongside significant economic growth in the region, with the GDP of the Chao Lake basin increasing from CNY70 million (about $9.7 million) in 2017 to CNY108 million (about $15 million) in 2021, representing an approximate 11% compound annual increase.
Lessons
Institutional capacity. The creation of a primary institution to manage the lake was important for integrated river basin management. However, turning a good concept into reality took time and required an evolutionary process. At the beginning, the Chao Lake Management Authority struggled to establish its authority and distinguish its responsibilities from related provincial line departments. Persistent efforts enabled the agency's transformation into an established and recognized lake basin management institution over the past 10 years.
Strengthening its institutional capacity was a critical success factor. The project gave timely support to the Chao Lake Management Authority by improving its technical capacity, providing advanced monitoring facilities, developing a lake management information system, addressing key management issues, and connecting it to international networks.
Effective incentive mechanism. Reducing the agricultural nonpoint source pollution remains to be a challenge in the Chao Lake basin. Since household farming was the major source of livelihood for many years, the increasing labor cost and low environmental literacy of local communities hindered the transition to environmentally friendly agriculture. While an eco-compensation program can provide incentives to farmers, the absence of a cost-effective measure to quantify the pollution emission from a household's farmland impeded the wide application of an effectiveness-based quantitative incentive mechanism. The increased land circulation for crop farming in recent years offers new opportunity for this endeavor.
Digital governance. Data accessibility and integration are often an issue in the digital governance of a lake basin. The data are usually collected and held by different line departments, such as those on environmental protection, agriculture, land resources, and water resources. The Chao Lake Management Authority successfully addressed this concern by initiating a monitoring system reform to integrate the monitoring data sets for the lake basin. This involved unifying planning, design, indicator system, inspection, software management, and data platforms while allowing different departments to install, operate, and manage the monitoring facilities separately.