Brief
Risk Communication in the PRC:
Good Practices in Zhejiang Province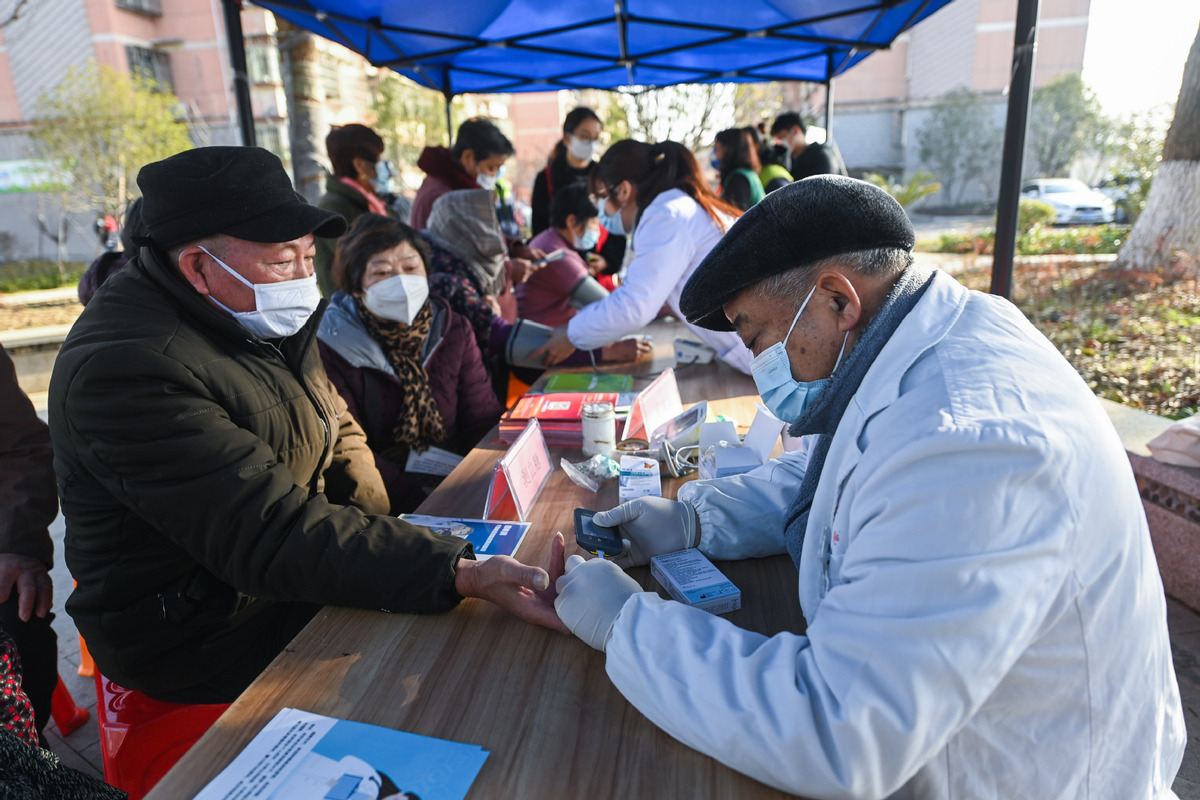 Risk communication is "the real-time exchange of information, advice and opinions between experts, community leaders or officials and the people who are at risk, which is an integral part of any emergency response." 1
Risk communication aims to provide scientifically accurate, adaptable messages to help people be prepared and stay informed. It involves risk assessment, risk awareness, knowledge dissemination, and community intervention.2During the coronavirus disease (COVID-19) pandemic, people relied on accurate, timely communication to prevent misinformation and to guide them to respond appropriately. Effective practices of various aspects of COVID-19 risk communication in Zhejiang are summarized below.
1. Risk assessment
Risk assessment is the first step in understanding the scope of risk and the influencing factors, thus enabling decision making on adequate prevention and control measures. Key to developing an effective risk communication plan and implementation strategy are what (key messages), whom (target groups), who (organizations or professionals to deliver key messages to target groups), when (time of delivery), and how (methods and channels to communicate with target groups).
On 26–28 January 2022, a total of 44 confirmed cases of COVID-19 were reported in Hangzhou City, with 12 in Xiaoshan District, 21 in Binjiang, 1 in Xihu, 2 in Shangcheng, 6 in Fuyang, and 2 in Gongshu. They included the latest 18 confirmed cases detected among close contacts at centralized isolation sites.
The provincial government strengthened risk communication mechanisms to respond to the COVID-19 outbreak. The Zhejiang Provincial Center for Disease Control and Prevention (CDC) immediately assessed the public health risk.
1.1. Assessment of risk scope and influencing factors
Outbreak period. The first confirmed COVID-19 case was reported on 26 January 2022, after which new cases were identified and reported daily. The outbreak happened 1 week before Chinese New Year (1 February 2022). Prevention and control of the pandemic urgently needed risk management, including risk communication.
Social-psychological factors. Zhejiang is one of the most developed provinces in the PRC. Many people from all over the country migrate to Zhejiang to work. Hangzhou, the capital of Zhejiang, is a popular tourist spot. The city faced two challenges, both risk factors for the spread of the virus: (i) some migrant workers would go back to their hometown for Chinese New Year family reunions, and (ii) many tourists would visit Hangzhou for Chinese New Year
Rumors and misinformation. People living in high-risk communities, where new cases and close contacts had been identified, were scared and worried. Rumors and misinformation were spreading.
2. Risk awareness
The best way to prevent and slow the transmission of the COVID-19 pandemic is through risk awareness, which is achieved by communicating risk assessment and is an important measure to control the infodemic.3
Risk awareness relies on trust, timely release of information, transparency, and advance planning.
Government and health institutes are trusted sources of data and information. The government must announce COVID-19 information and prevention measures daily through mass media such as TV, radio, newspapers, and government social media accounts.
2.1. Daily news release mechanism established to publish vital information
The Information Office of the Zhejiang provincial government held a press conference every day to announce the latest number of confirmed cases, the general situation of the COVID-19 pandemic, and prevention and control measures, among other matters (Figure 1). The governor and health experts answered reporter's questions, which were of great public concern. Live broadcasts provided updates on the latest developments and tackled public concerns at home and abroad.
Figure 1. Zhejiang Provincial Government Information Office Press Conference, 29 January 2022

Source: Zhejiang Center for Disease Control and Prevention.
2.2. Daily reporting system launched to provide accurate and comprehensive data
The Provincial Health Commission announced on its website and other platforms daily updates on the latest numbers of newly confirmed cases, suspected cases, those on quarantine, close contacts under medical observation, and asymptomatic cases.
The epidemic map was updated in real time to display infection figures. All regions could refer to it, which was supported by big data technology, for the precise location and number of cases in a specific community to allow health authorities to quickly respond and promptly formulate prevention measures.
2.3. Health education plan developed
The Zhejiang CDC developed a work plan for health education to guide and expedite risk communication with target groups. The plan included key messages, health education methods, and media platforms:
Key messages for different target groups were developed.
Key target groups were identified as migrant workers, students, and residents in high-risk communities.
Key settings were workplaces with a significant number of migrant workers, schools, transport stations, communities with confirmed new cases and close contacts, and public places such as shopping centers and restaurants.
For migrant workers. Key messages on prevention and control for migrants returning to their hometowns for Chinese New Year were developed through sample questions and answers (Figure 2). The messages were delivered through posters, flyers, the provincial CDC WeChat account, workplaces, and enterprises.
Figure 2. Q&A on Preventive Measures for Migrant Workers Traveling during Chinese New Year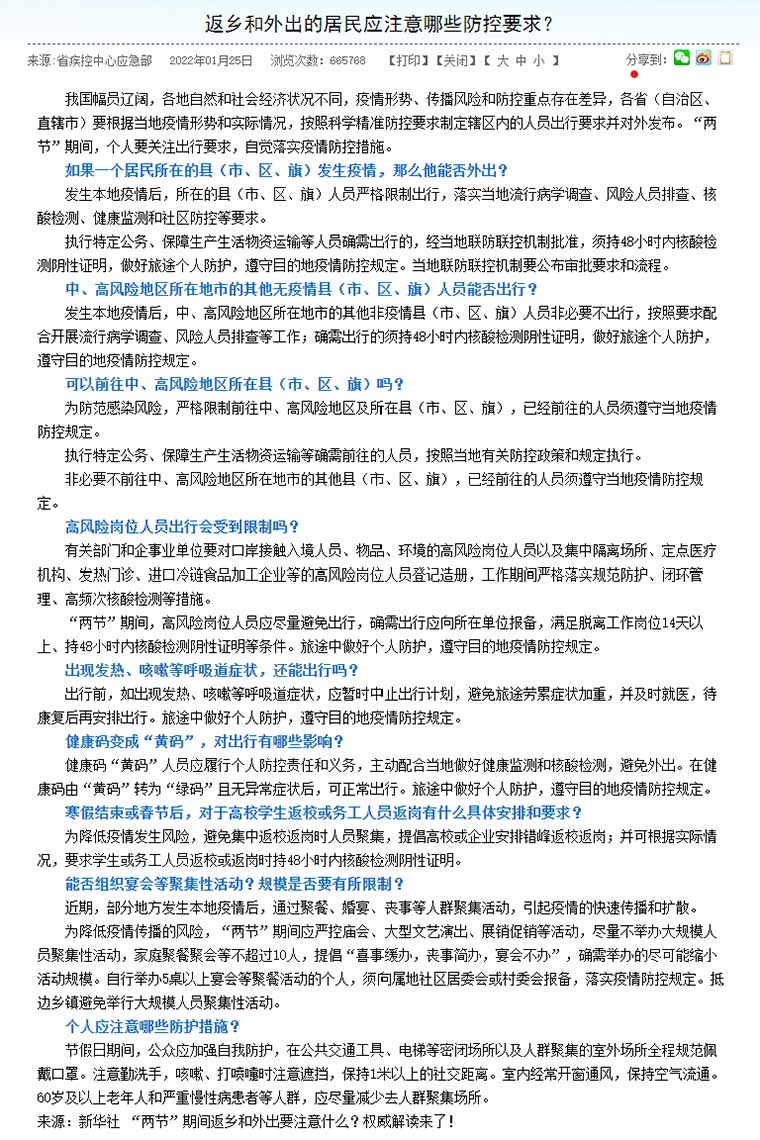 Source: Zhejiang Center for Disease Control and Prevention.
For students. Health education professionals developed "The First Class" for the new semester. It was taught by CDC staff in one school and broadcast live online to all other schools. It imparted knowledge, attitudes, and skills to prevent COVID-19 (Figure 3).
Figure 3. The First Class in the New Semester


Source: Zhejiang Center for Disease Control and Prevention.
At 3 PM, on 24 February 2020, health education expert Qi Zhang, associate physician of Zhejiang CDC, held "The First Class" at Yucai-Jinhang Elementary School in Hangzhou. The topic was COVID-19 protection guidelines for students. "The First Class" was streamed, allowing more than 7,000 students in other schools to attend.
To further strengthen health education in schools, the Health Education Institute of Zhejiang CDC will continue to use media platforms to create more online, live, high-quality courses.
For residents in communities. Since the COVID-19 outbreak was reported in Hangzhou on 26 January 2020, communities and workplaces have been divided into zones for containment, control, and prevention, following national and provincial policies:
Containment zones. People stayed home and community workers provided door-to-door service.
Control zones. No one could go out or gather.
Prevention zones. People were advised to stay in the area and not gather.
Zhejiang CDC developed key messages for residents in the zones and produced and handed out posters and flyers carrying the key messages (Figure 4).
The coverage of the three zones was adjusted quickly depending on the risk after cases at isolation sites reached zero. On 10 February 2020, the containment, control, and prevention zones were opened.
Figure 4. Key Messages for the Community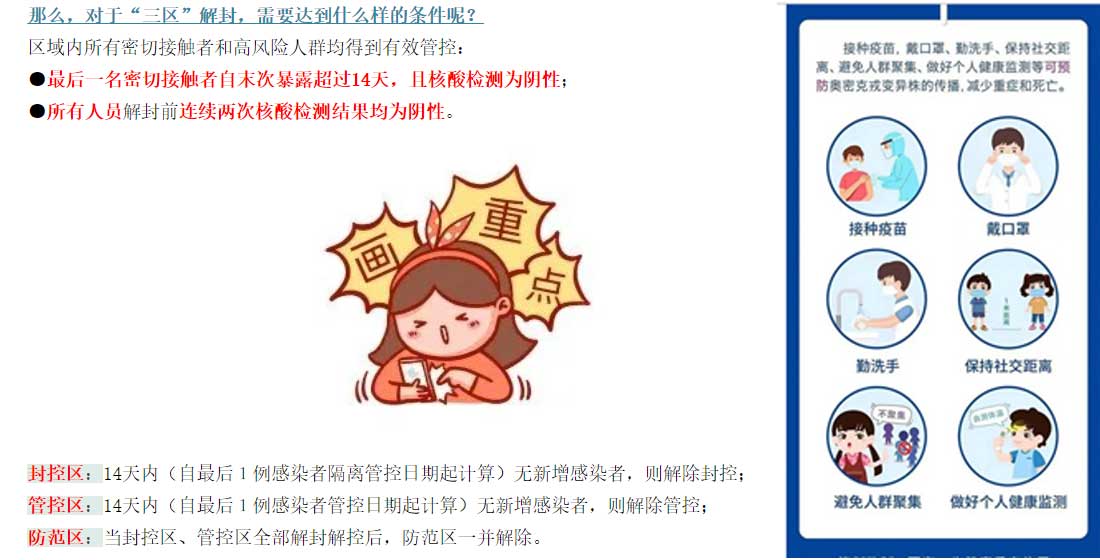 Source: Zhejiang Center for Disease Control and Prevention.
For all residents. On Chinese New Year's Eve in 2022, Zhejiang CDC published an open letter on the Spring Festival Initiative on Epidemic Prevention. It admonished people to (i) be aware of the risks; (ii) monitor their temperature, cough, and other symptoms; (iii) stay home; (iv) cooperate with health workers in investigation, nucleic acid testing, and disinfection; (v) not believe or spread rumors; and (vi) immediately report epidemic risks (Figure 5).
Figure 5. Open Letter on the Spring Festival Initiative on Epidemic Prevention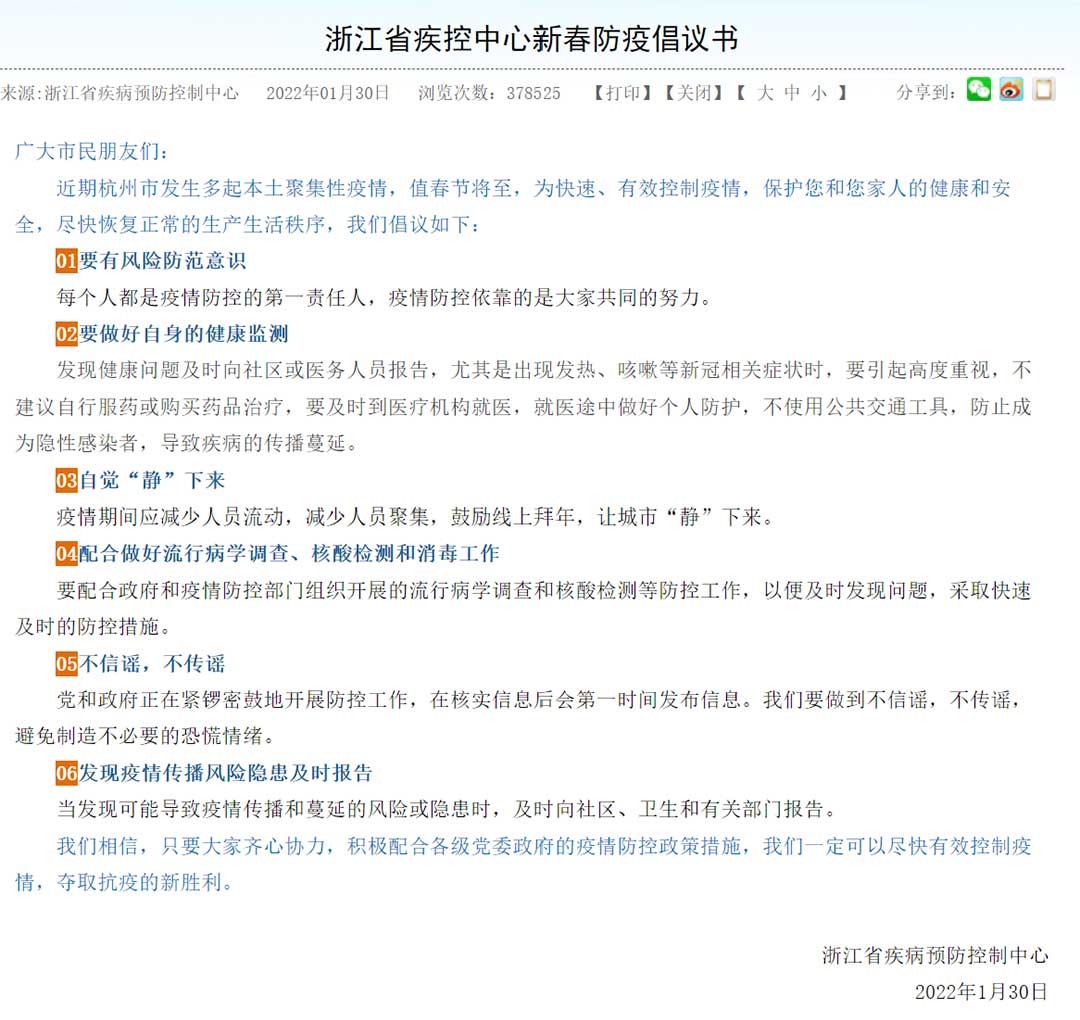 Source: Zhejiang Center for Disease Control and Prevention.
3. Knowledge dissemination
Zhejiang CDC's practical prevention and control tips, key messages, and guidelines were delivered through posters, flyers, and professional social media accounts. The measures covered self-protection, disease prevention under specific conditions, travel, family, public places, public transport, and medical observation at home. Zhejiang CDC developed a question-and-answer manual for rural residents.
Key opinion leaders played a major role in raising public awareness of scientific disease prevention and control. Famous doctors and public experts from provincial health organizations and research institutions regularly expressed their professional opinions and suggestions via press conferences, interviews, and the internet, and widely promoted simple but effective self-protection measures such as wearing face masks, washing hands regularly, and ventilating rooms.
News and mainstream media were the vehicles for mass dissemination of knowledge, policies, updates, and inspiring stories about the fight against the pandemic.
Knowledge, key messages, and guidelines were developed and disseminated through different channels by Zhejiang CDC. Daily news and updates were released via the popular Zhejiang Health Education WeChat account.
Key opinion leaders were interviewed in the health section of a weekly local TV program that discussed issues concerning the public.
A health hotline provided the public with health advice and guidance on where to access nucleic acid testing and COVID-19 vaccines, and answered questions about individual and family preventive measures, medical observation at home, and medical treatment. The hotline also provided psychological counseling 24 hours a day. All CDCs (provincial, city, county, and district) in Zhejiang disseminated the health hotline number (Figures 6 and 7).
News and mainstream media, including digital media, widely disseminated knowledge, policies, updates, and inspiring stories about the fight against the pandemic. They helped allay people's anxiety and fears, identified problems, and helped solve them. A good number of media outlets dedicated space for epidemiological updates and analytics on the COVID-19 situation and for countering of rumors and dis- and misinformation.
4. Community-based intervention
The community is crucial in risk communication. Community-based management has been key in curbing the spread of the virus. A report on the PRC's fight against COVID-19 puts it clearly: "As an extension of governance for social management, 4 million community workers, together with volunteers, visited 650,000 urban and rural communities across the country to communicate epidemic prevention knowledge, offered psychological counseling and helped households receive daily necessities. They helped provide dragnet screening of potential virus carriers, made sure every corner was disinfected, and helped millions of households with difficulties in making a living."4
Zhejiang CDC worked with community committees and other partners to mobilize community resources (health workers, neighborhoods, volunteers, grid workers, and residents' representatives) for risk communication. They developed key messages that targeted gaps in information, awareness, and understanding about how to protect individuals and the community, especially the most vulnerable. Community involvement helped stop stigma, rumors, and misinformation. It was particularly useful in rapid information sharing; mobilization of community resources for prevention, care, and support; and regular collection of feedback from the entire community.
1 World Health Organization (WHO). 2017. Communicating Risk in Public Health Emergencies: A WHO Guideline for Emergency Risk Communication (ERC) Policy and Practice. Geneva. 
2 S. Du, A. Mao, K. Wang, Y. Meng, Y. Yang, M. Zhao, W. Qiu [都率, 毛阿燕, 王坤, 孟月莉, 杨玉洁, 赵敏捷, 邱五七]. 2021. 风险沟通原则在我国新型冠状病毒肺炎(COVID-19)疫情防控中的实践 [Practice of Risk Communication Principles in the Prevention and Control of the COVID-19 in China]. Soft Science of Health. 7 (35). pp. 90–92.
3 R. Chaterjee et al. 2020. COVID-19 Risk Assessment Tool: Dual Application of Risk Communication and Risk Governance. Progress in Disaster Science. 7. 
4China Daily. 2021. China's Fight against COVID-19.