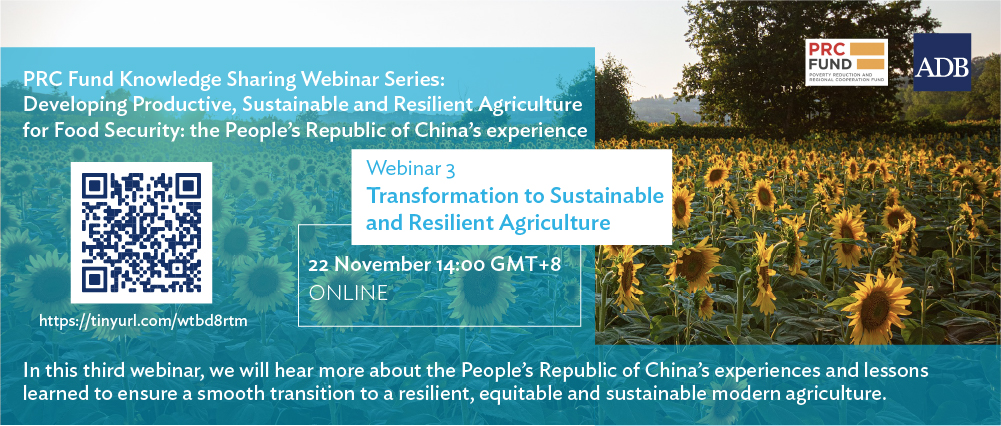 The RRC has lifted more than 850 million of the rural population out of extreme poverty. This is the result of rapid growth in the agricultural sector, following investments and the implementation of economic reforms in the 1970s. Agricultural production grew 5-fold in three decades. The PRC is also at the forefront of efforts to achieve the 2030 Sustainable Development Goals. Despite remarkable achievements, the agricultural sector in the PRC has been facing many challenges, including natural resources degradation, insufficient water quantity and quality, soil erosion, and many environmental problems due to unsustainable farming practices. Climate change impacts, with more frequent droughts and floods, have intensified the pressure in agricultural production and food security.
Transformation of agriculture and food systems is a key to tackle these challenges, achieve environmental sustainability, and ensure long-term food security in PRC. The PRC has been increasing its effort to adopt a more balanced approach between production systems and the natural and human resources to build more resilient food systems that withstand environmental, climatic, and economic shocks. Together, the PRC and ADB have been supporting initiatives that promote rural revitalization, nature-based solutions, climate change adaptation and mitigation, and green financing for private sector engagement to achieve carbon neutrality, ensure sustainability, protect vulnerable people, and ensure a smooth transition from traditional small holders to modern agriculturalists.
In this third webinar, we will hear more about PRC's experiences and lessons learned to ensure a smooth transition to a resilient, equitable and sustainable modern agriculture.
Register via Zoom.
Moderator
Marzia Mongiorgi-Lorenzo, Principal Economist, ADB
Opening Remarks
Weihua Liu, Executive Director, ADB
Teresa Kho, Director General, East Asia Department, ADB
Bruno Carrasco, Director General, Sustainable Development and Climate Change Department, ADB
Keynote Presentation
Thomas Panella, Director, Environment, Natural Resources and Agriculture Division, East Asia Department, ADB
Discussants:
Su Wei, Director, Department of Farmland Enhancement, MARA
Jing Zhu, Director, Center for International Food and Agricultural Economics, Nanjing Agricultural University
Muhammad Israr, Secretary, Agriculture Department, Khyber Pakhtunkhwa Government, Pakistan
Yasmin Siddiqi, Director, Environment, Natural Resources and Agriculture Division, Central and West Asia Department, ADB
Min Yu, Deputy Director of Information Service, Foreign Economic Cooperation Center, MARA
Lily Cao, General Manager, Overseas Department, DAYU Irrigation Group
Q&A
Closing Remark
Safdar Parvez, Advisor, East Asia Department, ADB
Moderator
Marzia Mongiorgi-Lorenzo, Principal Economist, East Asia Department, ADB
Opening Remarks
Li Zhiping, Deputy Director General, Foreign Economic Cooperation Center, Ministry of Agriculture and Rural Affairs, PRC
Thomas Panella, Director, East Asia Department, ADB
Keynote Presentation
Jikun Huang, Honorary Director, China Agricultural Policy Research Center, Peking University
Dou Wei, Vice General Manger, Department of Digital Rural Affairs, Alibaba

Discussants:
Xiaozhe Zhang, Coordinator, South-South and triangular cooperation (SSTC) in Asia and Pacific region, Global Engagement, Partnership and Resources Mobilization Division, International Fund for Agriculture Developmenent
Mo Linfeng, Vice President, NOVAGRO (Shandong) Co.
Takeshi Ueda, Principal Natural Resources and Agriculture Economist, Southeast Asia Department, ADB
Q&A
Closing Remark
Marzia Mongiorgi-Lorenzo, Principal Economist, East Asia Department, ADB
Moderator
Marzia Mongiorgi-Lorenzo, Principal Economist, East Asia Department, ADB
Opening Remarks
Mr. Zhang Lubiao, Director General of Foreign Economic Cooperation Center, Ministry of Agriculture and Rural Affairs, People's Republic of China
Mr. Thomas Panella, Director, Environment, Natural Resources and Agriculture Division, East Asia Regional Department, ADB
Keynote Presentation
Dr. Shenggen Fan, Chair Professor and Dean, Academy of Global Food Economics and Policy, People's Republic of China

Discussants:
Ms. Michiko Katagami, Principal Natural Resources and Agricultural Specialist, Sustainable Development and Climate Change Department, ADB
Mr. Liu Dong, Director of Smart Environment Center, Tongji University of China, People's Republic of China
Mr. Martin Lemoine, Principal Investment Specialist, Private Sector Operations Department, ADB
Mr. Yu Ping, CEO, Jiangsu Tianzow Husbandry Company, People's Republic of China
Dr. Iskandar Abdullayev, Deputy Director Two of CAREC Institute
Q&A
Closing Remark
Marzia Mongiorgi-Lorenzo, Principal Economist, East Asia Department, ADB