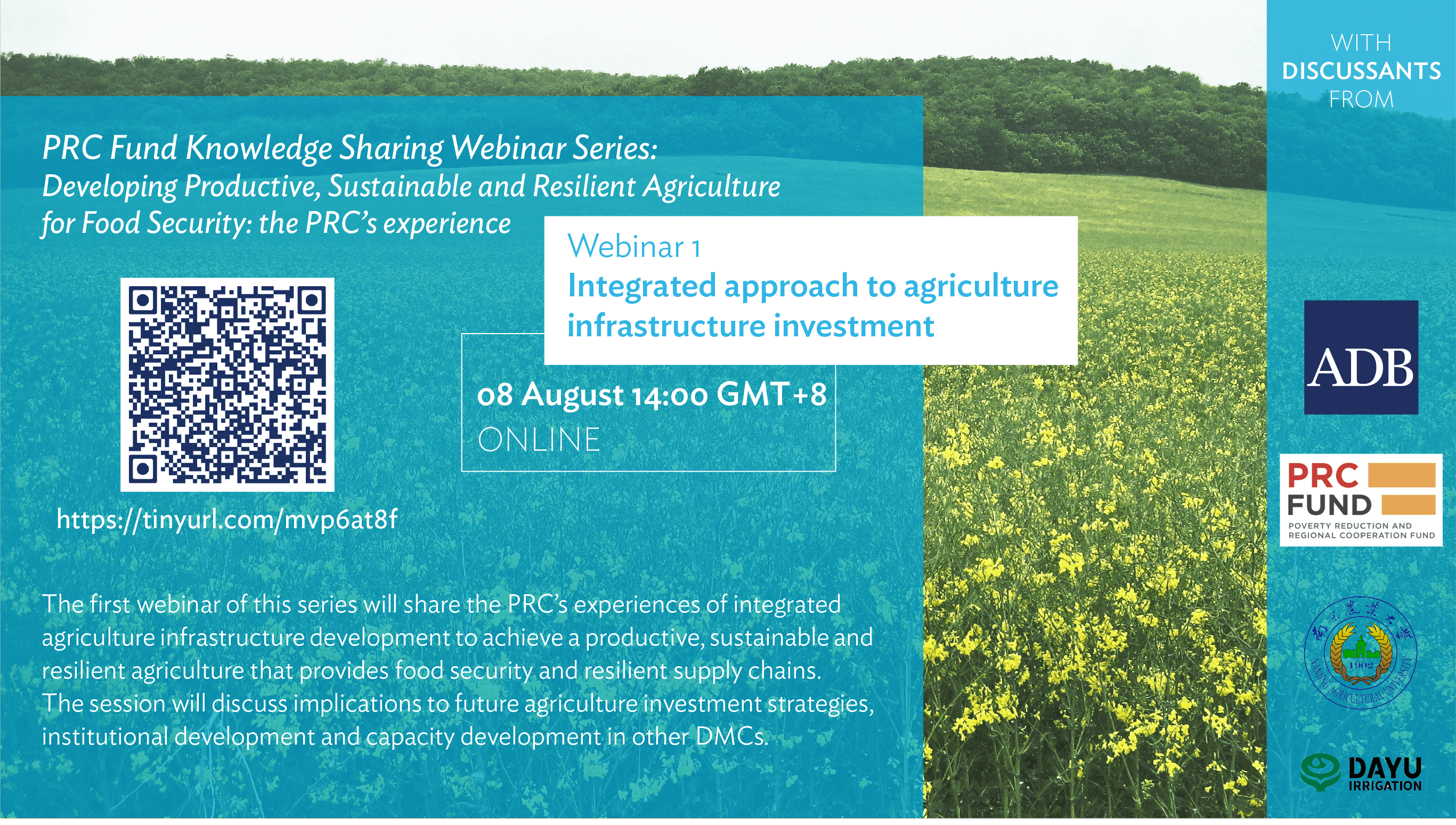 The PRC feeds the largest population in the world, a task fraught with many challenges. Investments in agriculture together with institutional reforms have secured a stable food supply. The PRC made a remarkable achievement in expanding agriculture production by more than 5 times in three decades through new technologies, investment in infrastructure, mechanization, increased chemical use and subsidies that focused on increasing food production. The PRC also succeeded in connecting farmers with markets and developing food value chains with strong private sector engagement and innovative technologies, such as the digitalization of food supply chains through e-commerce platforms.
The risk of food insecurity is aggravated by climate change that leads to more frequent droughts and floods, causing reductions in agriculture production. The PRC is also facing natural resource degradation and water shortages due to intensive agriculture. Recognizing the importance of environmental sustainability and climate resilience to ensure long-term food security, the PRC has been increasing its efforts to adopt a more balanced approach between production systems and the underpinning natural and human resources to build resilience and better absorb environmental, climatic and economic shocks.
In partnership with the Ministry of Finance and Ministry of Agriculture and Rural Affairs (MARA), ADB is supporting the PRC's shift to sustainable and resilient food systems and integrated rural development to achieve carbon neutrality and environmental sustainability while generating more economic opportunities in disadvantaged rural areas. The current state of food security and agriculture in Asia and the Pacific is revealing the vulnerability of food systems. The experience of the PRC in developing productive, sustainable, and resilient agriculture provides lessons for many ADB developing member countries (DMCs) facing common development challenges.
ADB's PRC Poverty Reduction and Regional Cooperation Fund (PRC Fund) support the process of poverty reduction, regional cooperation and knowledge sharing for DMCs in Asia and the Pacific. The webinar series is designed to support the cross-regional knowledge sharing initiative between the PRC and other DMCs to enhance food security in the region through productive, sustainable, and resilient agriculture development. Three short webinars are envisaged on (i) integrated approach to agriculture infrastructure investment, (ii) innovation in food value chain development, and (iii) transformation to sustainable and resilient agriculture.
The first webinar of this series will share the PRC's experiences of integrated agriculture infrastructure development to achieve a productive, sustainable and resilient agriculture that provides food security and resilient supply chains. The session will discuss implications to future agriculture investment strategies, institutional development and capacity development in other DMCs.
Moderator
Yolanda Fernandez Lommen, Country Director for the People's Republic of China, ADB
Opening Remarks
Weihua Liu, Executive Director, ADB
Teresa Kho, Director General, East Asia Department, ADB
Bruno Carrasco, Director General, Sustainable Development and Climate Change Department, ADB
Keynote Presentation
Thomas Panella, Director, Environment, Natural Resources and Agriculture Division, East Asia Department, ADB
Discussants:
Su Wei, Director, Department of Farmland Enhancement, MARA
Jing Zhu, Director, Center for International Food and Agricultural Economics, Nanjing Agricultural University
Muhammad Israr, Secretary, Agriculture Department, Khyber Pakhtunkhwa Government, Pakistan
Yasmin Siddiqi, Director, Environment, Natural Resources and Agriculture Division, Central and West Asia Department, ADB
Min Yu, Deputy Director of Information Service, Foreign Economic Cooperation Center, MARA
Lily Cao, General Manager, Overseas Department, DAYU Irrigation Group
Q&A
Closing Remark
Safdar Parvez, Advisor, East Asia Department, ADB