Seminar & Lecture Series
Knowledge-Sharing Sessions for Mongolia

Developing the Economic Cooperation Zone Project 24 Mar 2021 - 28 Apr 2021 Online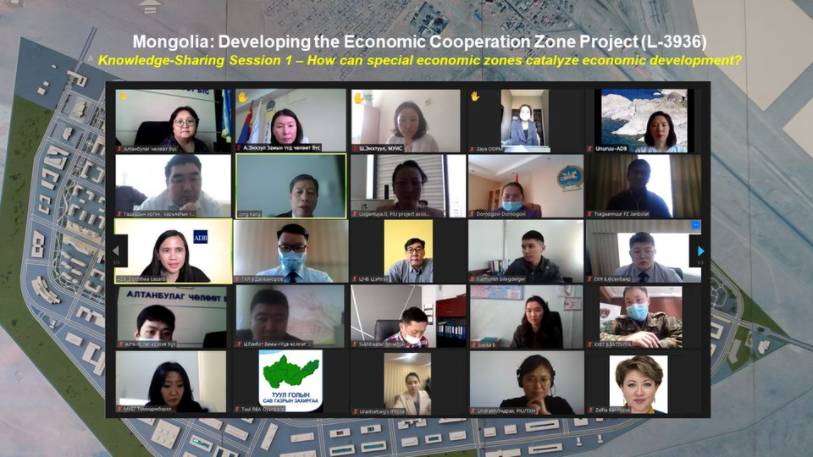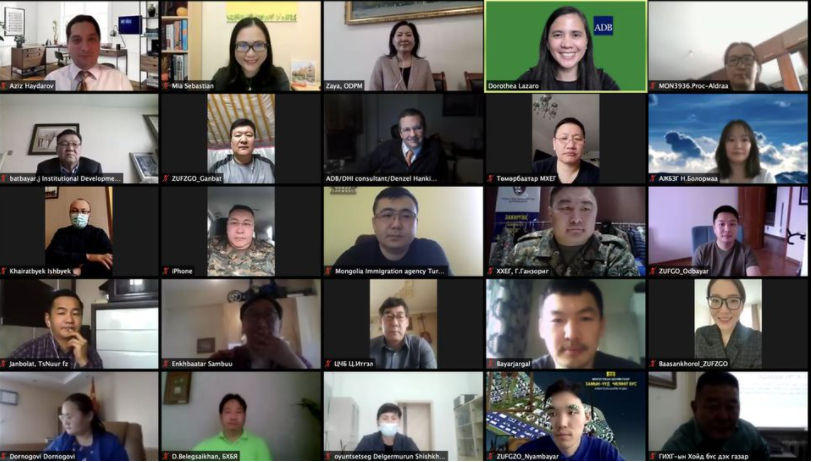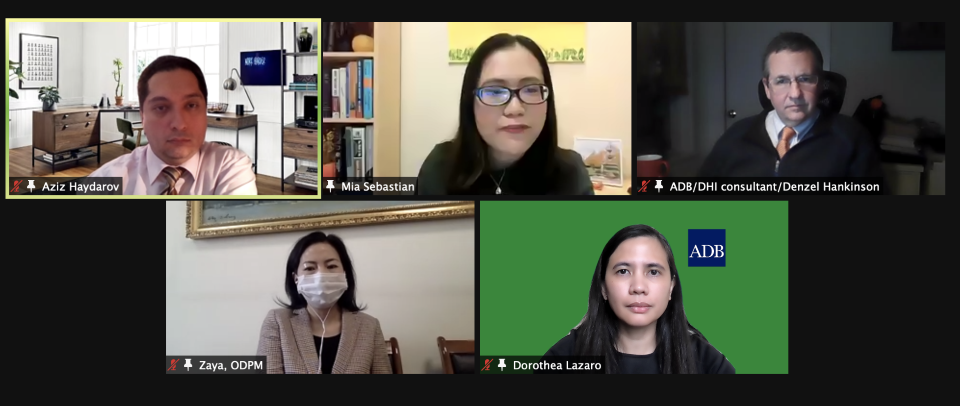 ADB is currently implementing the "Developing the Economic Cooperation Zone Project," which aims to operationalize Mongolia's Zamyn-Uud free zone, and serve as a catalyst for diversifying Mongolia's economy, integrating it into regional and global value chains, and increasing employment opportunities. To complement project activities, Public Mgt, Financial Sector, & Regional Coop Division, East Asia Department (EAPF) EAPF organized a series of knowledge sessions from March to April 2021 with around 300 participants.
​​​​​​​Supported by TA 9679, session topics include best practices in special economic zones (SEZs), water-saving technology, and options for public-private partnership in zone operations. ADB staff and international experts shared knowledge and lessons to public and private stakeholders in Mongolia. 
​​​​​​​Session 1: How can special economic zones (SEZs) catalyze economic development?
 24 March 2021
Jong Woo Kang, Principal Economist, Economic Research and Regional Cooperation Department of ADB discussed the rise and evolution of economic zones in Asia-Pacific, modalities and emerging trends. He shared that fiscal and non-fiscal incentives, factor costs, strategic location, institutional capacity, and state commitment are crucial factors for SEZs to be successful, while governance and rent seeking, wrong positioning, and lack of localized strategy contribute to failures in SEZs development. He underscored that the popularity of SEZs still remains strong under rapidly evolving environment (i.e., growth of services, knowledge economy, supply chain), but approach should be tailored to country's economic and developmental context.

Session 2: International Best Practices and Practical Experience in SEZs
31 March 2021
In this session, Prof. Aradhana Aggarwal, from the Department of International Economics and Management, Copenhagen Business School discussed lessons learned from the People's Republic of China (PRC), India, and select Central Asian countries. She identified the five stages of implementation of SEZ policy: (i) planning, (ii) strategy-building, (iii) policy design, (iv) implementation strategy, and (v) monitoring and evaluation. SEZs may be developed by the public sector, private sector or in public private partnership and there is evidence of their success irrespective of the ownership. Best practices regarding the tax incentives, infrastructure development, one stop shop, labor laws and environment laws were also discussed.

Elmer San Pascual, retired government Career Executive Officer of Philippine Economic Zone Authority, shared the Philippine experience in developing SEZs. He underscored the need to (i) choose a location that is easily accessible by international air and international sea transport, (ii) locate one where people and/or workers can be easily sourced from, hired, and given access to, and (iii) consider access to lifestyle conveniences. In operating SEZs, a good law detailing the importance of cooperation between and among national government agencies must be present and local government regulations and its taxing powers must be considered. Incentives and proper management of incentives also play crucial roles in the success of the business operations of enterprises in the SEZs.

Session 3: Adopting Water-Saving Technology in Zone Operations
14 April 2021
Eduardo Garcia Alonso, water systems expert, shared regional experience in smart water management including from Viet Nam, Nepal, Georgia and the PRC. He proposed the following in developing a smart water system in Zamyn-Uud free zone: (i) monitor and control water usage to check if the agreed water consumptions are met by zone operators; (ii) enable equitable distribution of water resources within the community and within the zone; (iii) reduce water-related wastage; (iv) improve the quality of the water served and reduce risks related with public health; (v) increase the life span of infrastructures; and (vii) enhance the public perception of the Zamyn-Uud Free Zone Project including through efficiency and rational water use. Water reutilization systems must be enhanced by smart water technologies, in order to make them more efficient and useful. Even if the technical systems, including measurement equipment, hardware, software and associated staff are in place, the administrative and regulatory framework are key for success. Economies of scale can be important in water systems therefore cooperating with the neighboring PRC and connecting (at least for emergency situations) with Erenhot water system can be advantageous.

Session 4: Public-Private Partnerships (PPP) Options in Zone Operations
28 April 2021
Denzel Hankinson, PPP Specialist, described the characteristics of public-private partnerships (PPPs), different types, example of major types, and some considerations of PPP models for Mongolia. He showcased SEZ case studies including the Busan New Port in South Korea, Bejaja International Container Terminal in Algeria, Jebal Ali Port Zone in United Arab Emirates, and Khorgos SEZ and Inland Container Depot in Kazakhstan. He also shared the success factor of Aqaba SEZ in Jordan such as government support, risk mitigation, bankability and simplicity.

Mia Mary Sebastian, Deputy Executive Director of PPP Center of the Philippines, elaborated on Philippine PPP experience with focus on ecozones. The PPP Center facilitates the implementation of the country's PPP Program and serves as a central coordinating and monitoring agency for all PPP projects in the country.​ She mentioned the need to consider: (i) legal framework to carry out a PPP arrangement, (ii) regulated participation of foreign nationals, (iii) analysis of property arrangements in forming an ecozone, (iv) review of government's position from a tax perspective, and (v) contractual arrangements with locators on project objectives and delivery options.

The PRC's Health Response to COVID-19: Where Are We and What's Next
While new COVID cases in the PRC have slowed, life is still not quite back to normal. Fears of a second wave remain real without a vaccine in sight and, among other factors, potential of contagion from asymptomatic carriers and false-negative patients. In this webinar, the speaker will discuss how the PRC managed to contain the outbreak so quickly—and the shortcomings in epidemic prevention and control mechanisms and the national public health system. In addition, the speaker will shed light on, among others, whether the case number should have been higher, whether the authorities were slow in announcing the outbreak, how they addressed the shortage of resources (beds, health personnel, personal protective equipment, ventilators, and others), prioritize patients' treatment given the shortage, how the battle of COVID-19 in Wuhan evolved and what can be learned from its experience, what is the progress in vaccine development, the role of traditional Chinese medicine, and how the authorities will handle a potential second wave.
Chair:
James Lynch, Director General, East Asia Department, ADB
Speakers:
Zunyou Wu, Chief Epidemiologist of the Center for Disease Control and Prevention in China (China CDC);  and
Rongmeng Jiang, Director of Office of National Infectious Disease Medical Quality Control Center, Director of Infectious Disease Diagnosis and Treatment Center of Beijing Ditan Hospital Affiliated to Capital Medical University, Member of Experts Committee of National Health Commission. (Stayed in Wuhan for 109 days to guide and support local efforts in combating COVID-19).
Economic Impact of COVID-19 and Response of the PRC
COVID-19 has led the PRC to record its first negative quarterly growth of 6.8 percent year-on-year since the quarterly series began in 1992. The near two-month lockdown of all non-essential activity saw a major decline in all (industrial, services, and primary) sectors. In this webinar, the presenter will discuss the COVID impact on output, consumption, investment, trade, fiscal, debt, and unemployment, and whether this setback will derail the country's target of doubling the size of the economy by end-2020 from 2010. In addition, the presenter will shed light on the extent of resumption of work and production, disruption to the country's global supply chains in particular the production of daily necessity during lockdown, the conditions of and measures taken to help small-and-medium enterprises and self-employed businesses, avoidance of hoarding and price gouging, and some novel ideas being implemented to boost consumption. The presenter will also share insights on the omission of the GDP target in the 2020 government report at the People's National Congress, and what this implies for future economic prospects in the PRC and beyond. Chair:
Yolanda Fernandez Lommen, Country Director, PRC Resident Mission, ADB
Speakers:
Sen Gong, Executive Vice-President, CIKD
Yang Yao, Professor and Dean of National School of Development, Executive Director of Institute of South South Cooperation and Development, Peking University.
Wei Xu, Deputy Director General, Macroeconomic Research Department, the Development Research Center of the State Council (DRC).
How IT Aided the Fight Against COVID-19 and How the Industry Is Being Transformed?
The IT and online industry has played a pivotal role in the fight against COVID-19. For those kept at home, the food and grocery delivery apps of Meituan or Eleme have been a life savior sustained by an army of delivery personnel who typically ensure all takeaways be delivered within 30 minutes. Similarly, those who require medical attention but fear of infection in hospitals, can turn to one of the online health apps offered by Baidu, Alibaba, or Tencent. For primary and secondary students, a national online learning platform was quickly developed by the government in cooperation with internet and mobile companies. More pressingly to control people's movements and contain the spread of the virus, a national health QR code was developed and integrated into WeChat, a ubiquitous social messaging app, and Alipay, a popular online payment app. These are some of the issues which the speaker will share together with how he sees the industry will change and innovate going forward as a result of COVID-19. Chair:
James Lynch, Director General, East Asia Department, ADB
Speakers: