East Asia Blog Series
The Year of the Tiger: How the PRC Revives the Population of An Endangered Feline
Hsiao Chink Tang and Xiaowei Zhuang
31 Mar 2022
Biodiversity supports a well-functioning ecosystem, promotes human wellbeing, and contributes to a virtuous cycle of sustainable development.
Tigers are an endangered Asian species, and almost extinct in numerous countries including the PRC. As top predators and keystone species, tigers ensure a rich and varied ecosystem. They help balance prey populations and in turn vegetation that prey populations feed on.  Without top predators such as tigers, an ecosystem is likely to change dramatically or cease to exist.
Recognizing this, the PRC government, companies, and individuals have come together to help revive the population of Siberian tiger (Figure 1), the largest of the tiger subspecies, in the northeast region of the country.
Through anti-poaching, conservation, and high-tech measures, the Siberian tigers' population rose from nearly none at the end of the 20th century to more than 50 in 2021,  a minimum level necessary for self-sustainability.
Figure 1. Siberian Tiger.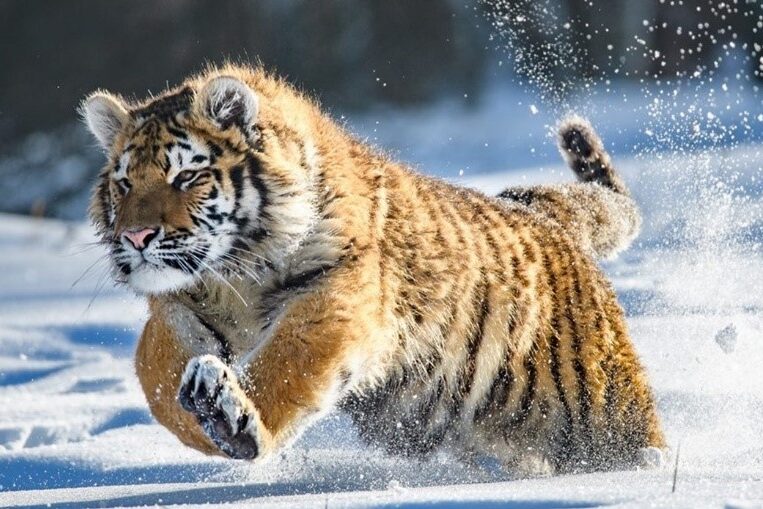 Reverse the Decline by Preventing Poaching
Poaching is the single-biggest threat to tigers' survival around the world. And tigers are the most popularly traded species.  A whole tiger's pelt can cost as much as $20,000, and a bottle of wine brewed with tigers' bones over $30,000. One of the main poaching causes is the use of tiger parts in traditional medicine, an issue that is also affecting many other species.
The PRC has introduced various measures to address these threats. At the national level, the PRC government has introduced extensive laws and measures that not only ban poaching and illegal trade, and penalize parties involved, but also educate the public.    
At the Siberian tigers' main habitats in Hunchun, Jillin Province, and Dongfanghong, Heilongjiang Province, rangers adopt a widely used spatial monitoring and reporting system to identify and combat poaching threats.
Rangers use dedicated devices to collect data on tiger observations, poaching signs, and other suspicious activities. The data collected are fed into the system to generate reports on poaching patterns and suggestions on patrolling routes. Through its use, sightings of poaching activities fell markedly by 97.4% from 2017 to 2021.
The private sector has also joined the anti-poaching efforts leveraging on its own unique expertise. Taobao, the country's largest e-commerce platform, uses algorithms to identify keywords, such as, poaching tools and traps, and tiger pelt, skin, or fur, to prevent poaching and illegal trading. The algorithms are also programmed to delete any posts or accounts associated with such information. In 2019, Taobao deleted 1.35 million posts to prevent illegal wildlife trading.
Meanwhile, Alipay, one of the PRC's leading online payment platforms, has teamed up with Hangzhou city, Zhejiang Province, east of the PRC, to create a wildlife protection mini-program that allows users to report any illegal wildlife activities. Through videos or photos uploaded by users, authorities can quickly trace any leads.
Revive the Population by Restoring the Habitat
The authorities have also taken a major step by formally designating a part of the main tiger habitat as the Siberian Tiger and Leopard National Park. The park covering 14,600 square kilometers is larger than the combined size of the famous Yosemite and Yellowstone National Parks in the US.
As a national park, it is not only the Siberian tigers and other key species that are protected, but the entire park's ecosystem. Also any land encroachment activities, such as, mining and logging, are prohibited.
To allow tigers to roam more freely, the conservation area has been extended to the border with the Russian Federation to create an ecological corridor. Even if this meant the cancellation of a highway project and the rerouting of a high-speed railway connecting to the country.
In addition, to avoid prey depletion, the authorities have released about 100 artificially bred deer into the park. This is also done to increase the deer's reproduction with the local herd, and to improve the general ecosystem.
All this has borne positive results. Cubs' survival rate increased from 33% in 2017 to 50% in 2021. Other wildlife's number also rebounded.
Monitor the Ecosystem through Innovative Technologies
Cutting-edge technologies are being used to monitor the ecosystem, evaluate the effectiveness of interventions, and generate timely data.
One key tool is artificial intelligence (AI) camera traps. Unlike standard camera traps, which take photos when any movement is detected, AI camera traps can identify whether a tiger or another animal is in the shot before a photo is taken (Figure 2).
Also with AI and big data, researchers can identify individual tigers based on their unique stripe patterns, and accurately monitor their population. Prior to AI and big data, much cost and time were spent looking for the required photos and identifying individual tigers.
Figure 2. An AI-Camera Trap.
In addition, previously, researchers had to regularly traverse the vast mountainous terrains to collect and replace data cards from thousands of camera traps. This work was not only treacherous but time consuming. It would take six months to collect all data.
To overcome these challenges, Huawei has built a real-time integrated ecosystem monitoring, evaluation, and management network system, the first in the world, at the park. The network not only connects the camera traps but also other climate and ecological devices including rangers' communications.
All data are transmitted to a monitoring center, which allows real-time comprehensive monitoring of the entire park's ecosystem. Within 18 months, the network has transmitted over 1 million images of wild animals, an impossible feat without modern technologies (Figure 3).
Figure 3. Real-Time Transmission of Wild Animals' Images.
The year of the tiger deserves to be celebrated as a turning point of Siberian tiger protection in the PRC. What the country has achieved holds useful lessons for other developing countries facing a similar wildlife extinction crisis. Indeed, it is the courage and energy demonstrated by all stakeholders—qualities symbolized by tigers in the Chinese culture—that have contributed much to the success.
ADB recognizes the importance of biodiversity conservation and has implemented various conservation initiatives in the PRC, including the Shaanxi Qinling project (forest ecosystem), Jiangsu Yancheng project (wetland ecosystem), and the preparation of Yunnan Province's first Biodiversity Strategy and Action Plan. ADB was also a major partner and participated in the 15th UN Conference of the Parties to the Convention on Biological Diversity in Kunming, Yunnan Province in 2021.