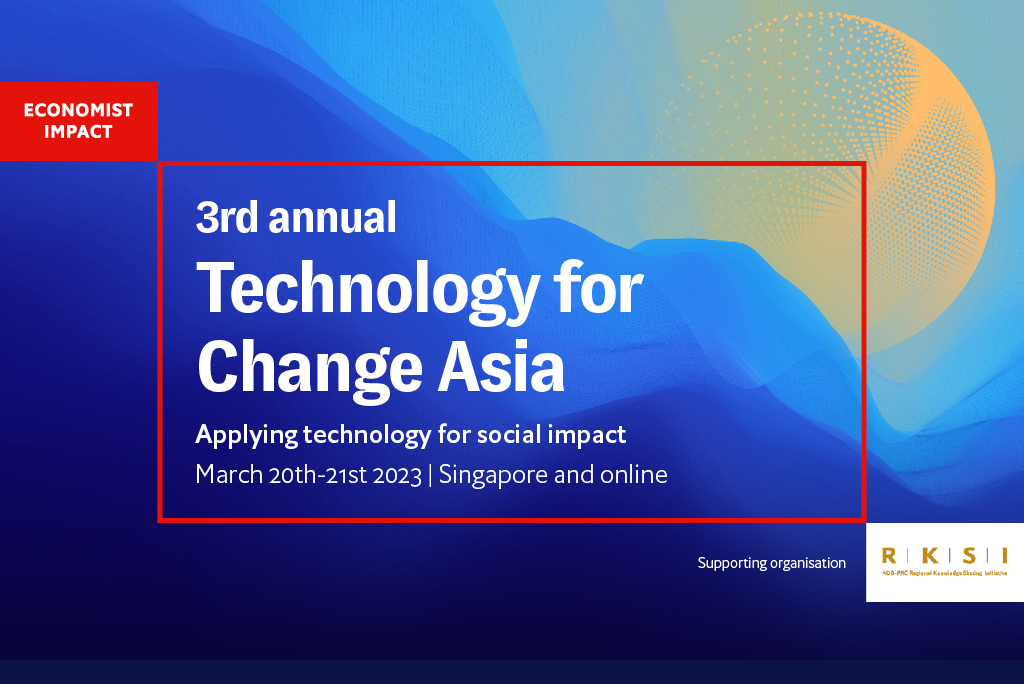 The Economist Impact's third annual Technology for Change Asia will gather leaders across the public, private and civil sectors to examine how technology-based and data-driven solutions can be applied to long-standing social challenges to connect with the consumer and stakeholders of today. Gain practical learnings from an expert speaker faculty and add your voice to the discussion at Marina Bay Sands, Singapore, and online.
There has never been a more urgent need to foster financial inclusion and promote prosperity through closing the digital divide for the achievement of the Sustainable Development Goals (SDGs). Stakeholders and consumers today expect businesses to deliver positive social outcomes as well as financial returns. As we harness technology to solve society's greatest challenges and threats affecting the global community, the necessity for sustainable, accessible, and ethical solutions has never been greater.
How can innovators, technology platforms, impact and government leaders move from hype to help? How do we foster diversity, equity, and inclusion through technology? What are the human capital challenges and opportunities that pioneers need to be aware of to plug the gaps and stay ahead of the curve? How can we maximize the opportunities and mitigate risk around the move towards decentralization and an increasingly hyper-connected world?
Register here. 
Time
Program
9:00 – 9:05
Welcome and Opening Remarks
9:05 – 9:25
Ministerial Keynote Interview

Ashwini Vaishnaw, Minister for Railways, Communications, Electronics and Information Technology, Government of India
9:30 – 9:50
Keynote Interview

Yat Siu, Co-Founder and Executive Chairman, Animoca Brands and Founder and Chief Executive, Outblaze

9:55 – 10:40
Fairness by Design: Tech for Diversity, Equity and Inclusion

Moderator: Elizabeth Mackie, Senior Manager, Trade, Policy, and Insights, Economist Impact

Speakers:

Bolor-Erdene Battsengel, Former Vice-Minister, Ministry of Digital Development and Communications, Mongolia and Founder, Girls Code

Deepali Khanna, Vice-President, Asia Regional Office, The Rockefeller Foundation

Fiona Nott, Chief Executive, The Women's Foundation

Harsha Rodrigues, Executive Vice-President, Regional Client Services, Women's World Banking


10:40 – 11:25
Unlocking the Power of the Tech Ecosystem: Collaborating for Impact

Moderator: Elizabeth Mackie, Senior Manager, Trade, Policy and Insights, Economist Impact

Speakers:

Abhas Jha, Practice Manager, Climate Change and Disaster Risk Management, South Asia Region, World Bank

Rahil Rangwala, Managing Partner, Accion Venture Lab

Shamika N. Sirimanne, Director, Division on Technology and Logistics, UNCTAD
11:25 – 11:55
Action Hour – Case Studies

Speakers:

Gaurav Keerthi, Deputy Chief Executive, Cyber Security Agency of Singapore and Co-Founder, Better.sg

Osama Manzar, Founder-Director, Digital Empowerment Foundation
12:00 – 12:50
LIVE Debate. Ghost in the Machine: Are We on the Brink of Achieving Artificial Consciousness … in the Next Ten Years?

Moderator: Simon Cox, Senior Economics Writer, The Economist

Speakers:

Abhijit Mahabal, Knowledge Architect, Pinterest

Schahram Dustdar, Professor of Computer Science, Vienna University of Technology, and President, Asia-Pacific Artificial Intelligence Association
Time
Program
9:00 – 9:20
Ministerial Keynote Interview

Moderator: Andrew Staples, Regional Head (APAC), Policy and Insights, Economist Impact

Tan Kiat How, Senior Minister of State, Ministry of Communications and Information, Singapore
9:20 – 9:40
Spotlight Interview
9:40 – 10:20
Digital Infrastructures and the Digital Economy: Opportunities and Challenges

Dileep Kannan, Regional Director, Grab For Business (GFB)

Lim May-Ann, Emeritus Director, Asia Cloud Computing Association, and Director, Fair Tech Institute, Access Partnership


10:20 – 11:00
Tech for the Climate: The Green Economy and Disaster Mitigation

Moderator: Gillian Parker, Senior Manager, Policy and Insights, Economist Impact

Speakers:

Avina Sugiarto, Partner, East Ventures

Christophe Bahuet, Deputy Regional Director for Asia and the Pacific, United Nations Development Programme (UNDP)

Steve Killelea, Founder and Executive Chairman, Institute for Economics and Peace
11:00 – 11:20
Coffee Break
11:20 – 12:00
Globalisation Reinvented: E-Commerce, Supply Chains, and Market Access

Moderator: Gillian Parker, Senior Manager, Policy, and Insights, Economist Impact

Speakers:

Carol Chong, Director, Supply Chain Resilience Division, Ministry of Trade and Industry, Singapore

Marko Kovacevic, Managing Director, Digital Supply Chain Institute

T. Koshy, Managing Director and Chief Executive, Open Network for Digital Commerce, India
12:05 – 12:45
Talent for Change: Digital Literacy and Upskilling for the Digital Economy

Moderator: Ritu Bhandari, Manager, Policy and Insights, Economist Impact

Speakers:

Charles H. Ferguson, General Manager, Asia-Pacific, G-P

Mahmudi Yusbi, Head of Programme, ASEAN Foundation

Scott Beaumont, President, Asia-Pacific, Google
12:45 – 1:45
Networking Lunch

Roundtable