Conference & Forum
Elderly Care System Development Forum
26 Sep 2022 - 28 Sep 2022
Online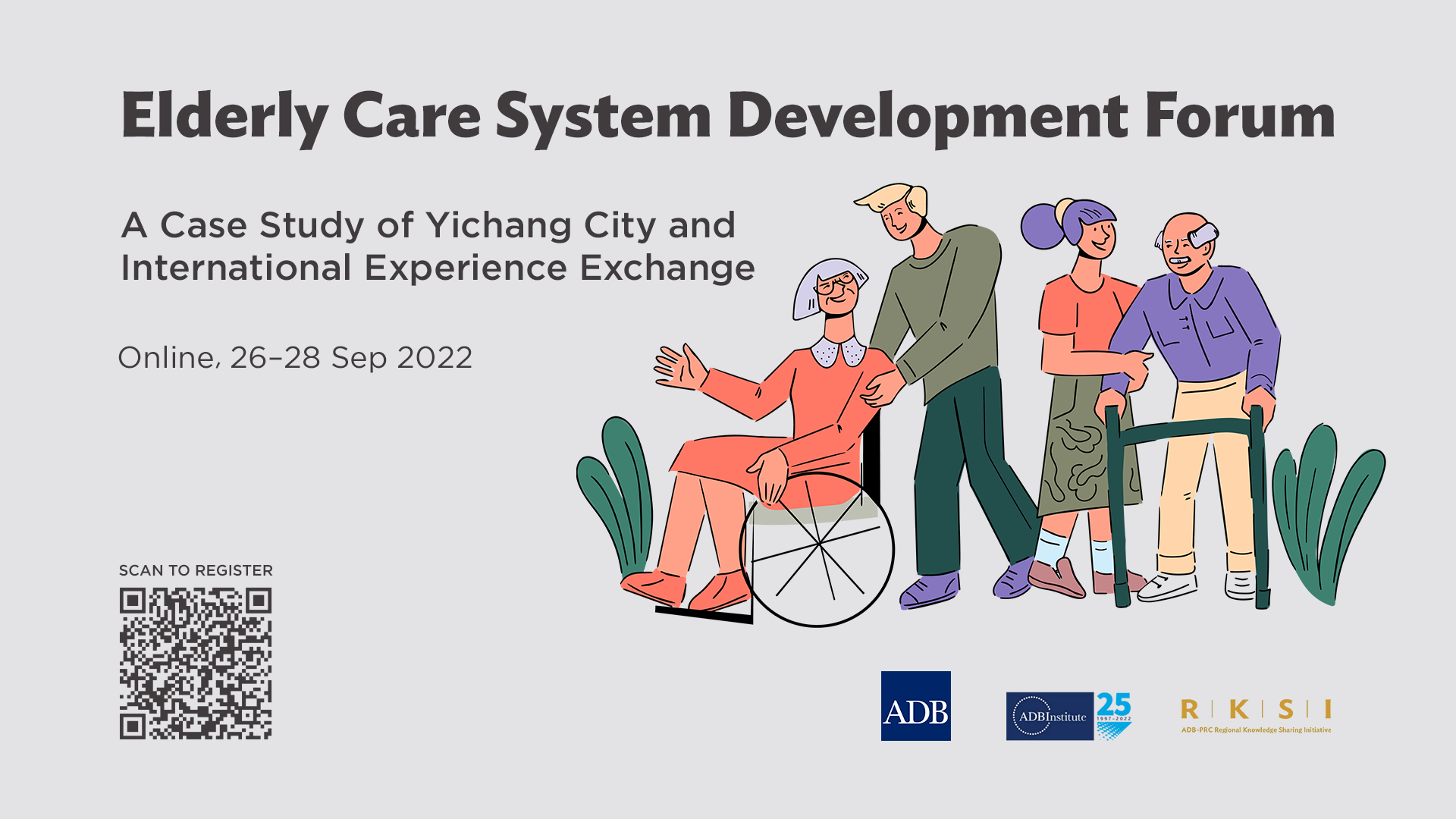 Asia and the Pacific are aging rapidly. In 2022, population aged 65 and older is around 373 million (UNFPA, 2022), while it is projected that by 2050 it will increase to 954 million (UN, 2019). The People's Republic of China (PRC) has the largest elderly population globally aging at fast pace. It is estimated that the proportion of people aged 60 and above is expected to increase from 18.7% in 2020 to 35.0% by 2050. Developing comprehensive elderly care system has been a prioritized step taken by PRC to address these challenges in past two decades.
Asian Development Bank (ADB) has been supporting PRC's elderly care system development through structural and non-structural interventions. Particularly in Yichang City, ADB has supported the elderly care system strategic planning, elderly and geriatric care facilities construction and operationalization, human resource development, institutional strengthening and capacity building.
ADB and Asian Development Bank Institute (ADBI) will jointly host an online international forum on elderly care system development to encourage dialogue, knowledge exchange from policy and specific program implementation, and discussion of future opportunities and challenges. The conference will consist of several keynote speeches, a case study of Yichang City, a south-south knowledge sharing workshop and thematic workshops attended by high profile sector speakers, sharing international practices.
ADB–PRC Regional Knowledge Sharing Initiative, Central Asia Regional Economic Cooperation Institute, Asia-Pacific Finance and Development Institute, Chinese University of Hong Kong-Shenzhen, Harvard Social Technology for Global Aging Research Initiative, and Social Technology Innovation Center for Aging of Jiangsu Industrial Technology Research Institute provided technical support to this forum.
The objectives of this forum are as follows:
To enhance knowledge exchange from ADB's elderly care projects for possible replication of innovative practices, particularly a detailed case study of ADB and Yichang Municipal Government's long-term partnership in elderly-case system development.
To strengthen capacity of Developing Member Countries (DMCs) to better plan, design, implement, and monitor programs for elderly care system and other aging strategic plans.
To trigger dialogues and develop future partnership on elderly-care and adaptation to aging demographics.
Time
Program
Opening, Keynote Speeches and Yichang Case Study – Part A
Moderator: Zhang Hao, Deputy Country Director, PRC Resident Mission, ADB
9:00 – 9:10
Introduction/Technical Guidance/Photo Session
Yao Yixin, Senior Research Fellow, ADBI

Moderator
Zhang Hao, Deputy Country Director, PRCM, ADB
9:10 –9:25
Opening Remarks
Tetsushi Sonobe, Dean and CEO, ADBI
Lu Jin, Deputy Director General, Department of International Economic and Financial Cooperation, Ministry of Finance, PRC
M. Teresa Kho, Director General, East Asia Regional Department, ADB

9:25 – 9:55
Aging Trend and Implications in Asia-Pacific and PRC
Albert Park, Chief Economist and Director General, Economic Research and Regional Cooperation Department, ADB

Q&A
9:55 – 10:10
Social Technology: An Interdisciplinary Approach to Improving Care for Older Adults
Arthur Kleinman, Professor of Global Health and Social Medicine and Psychiatry and Rabb / Professor of Anthropology, Harvard University
10:10 – 10:40
Review and Enlightenment of PRC's Elderly Care Policy in 10 years
Wu Yushao, Professor and Vice President, Research Institute on Aging, Fudan University

Q&A
10:40 – 10:50
Video: The ADB-Yichang Municipal Government's (YMG) Partnership in Elderly Care System Development
10:50 – 11:15
Elderly Care Service System Development in Yichang
Yang Qingshan, Director, Yichang Civil Affairs Bureau

Q&A
11:15 – 11:40
Overview of ADB and YMG's Partnership in Elderly Care System Development
Asif Cheema, Director, East Asia Department (EARD), ADB

Q&A
11:40 – 11:50
Wrap up
Session 1. Yichang Case Study in Elderly Care System Strategic Planning and Institutional Capacity Development
Moderator: Wendy Walker, Chief of Social Development Thematic Group, Sustainable Development and Climate Change Department (SDCC), ADB
14:00 – 14:10
Introduction/Technical Guidance/Photo Session
Yao Yixin, Senior Research Fellow, ADBI
14:10 – 14:30
Outcome of ADB Technical Assistance Project in promoting the development of elderly care services in the PRC – A Case Study of Yichang City
Xu Yuebin, Professor, School of Social Development and Public Policy, Beijing Normal University
14:30 – 14:50
Yichang Experience Replicated in ADB Developing Member Countries under RETA: 9111
Meredith Wyse, Senior Social Development Specialist (Elderly Care), ADB
14:50 – 15:10
Exploration and Practice of Institutional Strengthening and Capacity Development under Yichang Elderly Care Projects
Zhang Aiping, Deputy Director, Yichang Finance Bureau
15:10 – 15:15
Video: Interview with Project Management Office Staffs
15:15 – 15:45
Panel Discussion
Mary Ann Tsao, Chairperson, Tsao Foundation, Singapore
Perter Chan, Elderly Care International Consultant, SDCC, ADB
Li Wanbing, Project Manager, Foreign Loan Project Management Office, Wuzhou DRC, Guangxi
Xu Wei, Director, Hebei Province Governmental Foreign-funded Project Execution Center(HPMO), Hebei Provincial Department of Finance


15:45 – 15:55
Q&A
15:55 – 16:00
Wrap up
Time
Program
Yichang Case Study-Part B and South-South Knowledge Sharing Workshop
9:00 – 9:10
Introduction/Technical Guidance/Photo Session
Bai Jie, Urban Development Specialist, EARD, ADB

Session 2. Yichang Case Study in Elderly Care Human Resource Development and Facility Design
Moderator: Bai Jie, Urban Development Specialist, ADB
9:10 – 9:30
Elderly Care Human Resources Development in Hubei Three Gorges Polytechnic
Shen Shuhong, Dean of Medical College, Hubei Three Gorges Polytechnic
9:30 – 9:35
Video: Hubei Three Gorges Polytechnic Elder Care Training Program

9:35 – 9:55
Standardizing High-quality and Age-Friendly Elderly Care Facility Design
Zhao Xiaozheng, Vice chairman, Standardization Committee, Chinese Society of Gerontology and Geriatrics
9:55 – 10:25
Panel Discussion
Sofia Shakil, Director, Economic Program, The Asia Foundation
Qi Weixin, Director, Health and Elderly Care Talent Training Center, Yanshan University
Xiaolong Wang, General Manager, Beijing Cun Cao Care Management Consulting Company Limited
Zhou Yanmin, Professor, School of Architecture, Tsinghua University
Robert Wong, Assistant Director, Hong Kong Sheng Kung Hui Welfare Council
Wang Aiping, Director, Public Service Department and Clinical Nursing Teaching and Research Department, The First Hospital of China Medical University
10:25 – 10:35
Q&A
Session 3. Yichang Case Study in Elderly Care PPP
Moderator: Rosemary Ong, Senior PPP Specialist, Office of Public Private Partnership (OPPP), ADB
10:35 – 10:55
Case Sharing – ADB Loan Project: Elderly Care Comprehensive Service PPP Demonstration Project in Yichang, Hubei
Shi Hang, Director, Financial Advisory, Deloitte & Touche Financial Advisory Services Limited
10:55 – 11:15
Panel Discussion
Srinivas Sampath,Urban Development and Water Division, Southeast Asia Department (SERD), ADB
Yan Yan, Division Director, Foreign Capital Utilizaition and Overseas Investment Division, Guangxi Development and Reform Commission
Chen Sisi, Vice Director, Hubei Xiangyang Project Management Office of Projects Utilizing Foreign Loans
Huang Guihua, Chairman, Jiangsu Yuehua Aged Care Group Limited

11:15 – 11:25
Q&A
11:25 – 11:30
Wrap up
11:30 – 14:00
Lunch Break
South-South Knowledge Sharing Workshop
Moderator: Akiko Terada-Hagiwara, Principal Country Specialist, PRCM, EARD, ADB
14:00 – 14:10
Introduction/Technical Guidance/Photo Session
Yao Yixin, Senior Research Fellow, ADBI
14:10 – 14:20
Videos
Yichang Elderly Care Projects Experience by ADB
Virtual Study Tour

14:20 – 14:30
Overview of PRC's Elderly Care Projects and Summary of the Yichang Case Study
Bai Jie, Urban Development Specialist, ADB
14:30 – 14:40
Innovative Features of the World Bank's Aged Care Lending Operation in the PRC
Wang Dewen, Senior Economist, Social Protection & Labor, World Bank
14:40 – 15:40
Planning and Programming for Elderly Care System and Services
Maliki Achmad, Director, Poverty Alleviation and Community Empowerment, Ministry of National Development Planning of the Republic of Indonesia (BAPPENAS)
Sandag Tungalagtamir, Director, Population Development Department, Ministry of Labor and Social Protection, Mongolia
Nithirat Boontanon, Director of Bureau of Elderly Health, Department of Health, Ministry of Public Health, Thailand
Lorenzo Emanuel L. Quillermo, Executive Director, Qualifications and Standards Office (QSO), Technical Education and Skills Development Authority (TESDA), Philippines


15:40 – 16:40
Innovations in Elderly Care
Prateek Mahdav, Co-Founder & CEO, AssisTech Foundation (ATF), India
Chun Wah Fong, Senior Advisor, Housing and Development Board, Singapore
Liu Chang, Regional Director, Access Health International, PRC

16:40 – 16:50
Wrap up
Time
Program
Thematic Workshops on the Future Challenges and Solutions for the Elderly Care System Development
9:00 – 9:10
Introduction/Technical Guidance/Photo Session
Yao Yixin, Senior Research Fellow, ADBI

9:10 – 9:35
Elderly Care Services Challenges and Policy Trends of the PRC
Cheng Haijun, Professor, Administrative Cadre Institute, Ministry of Civil Affairs

Q&A
Session 4. Aging as an Economy Engine
Moderator: Yao Yixin, Senior Research Fellow, ADBI
9:35 – 9:50
Kanagawa's "Healthcare New Frontier" and Municipalities Efforts for Overcoming the Challenges of Super-aged Society
Hiroyuki Matsumoto, Associate Director/Group Leader, Policy Bureau, Kanagawa Prefecture, Japan
9:50 – 10:05
Labor Participation of the Elderly and the Public Pension System
Wataru Kobayashi, Professor, Chiba University of Commerce, Special Research Fellow of Policy Research Institute of MOF-Japan
10:05 –10:20
The Hong Kong Jockey Club Age-Friendly City Project
Terry Lum, Professor, Department of Social Work and Social Administration, The University of Hong Kong
10:25 – 10:35
AI+ Elderly Care Give Wings of Wisdom to the "Silver Economy"
Ni Chidan, Doctor, President of Shenzhen Institute of Health and Elderly Care
10:35 – 10:45
Open Discussion
10:45 – 10:55
Q&A
Session 5. Bridge Financing Gaps for Aging
Moderator: Fan Xiaoqin, Director, Public Management, Financial Sector and Regional Cooperation Division (EAPF), EARD, ADB
10:55 – 11:05
Long-Term Care Insurance Pilot Experiences in PRC
Yu Baorong, School of Insurance, University of International Business & Economics, PRC.
11:05 – 11:15
Korean Experience of Long-Term Care Insurance
Hongsoo Kim, Professor, Graduate School of Public Health, Seoul National University, Republic of Korea (ROK)
11:15 – 11:30
Lessons from the Development of Long-Term Care Insurance in Japan
Taichi Ono, Professor, Healthcare Policy Concentration, National Graduate Institute for Policy Studies, Japan
11:30 – 11:45
Sustainable Financing for Long-Term Care: What Can We Learn from International Experiences
Wang Dewen, Senior Social Protection Economist, Social Protection and Jobs Practice, The World Bank
11:45 – 11:55
Open Discussion
11:55 – 12:00
Q&A
12:00 – 14:00
Lunch Break
Session 6. Technology Boosting Age-Friendly Cities
Moderator: Ren Yuan, Deputy Director, Population Research Institute, Fudan University
14:00 – 14:25
The Exploration and Practice of Social & Technology Innovation for Aging
Jin Jing, CEO, Social & Technology Innovation Center for Aging, Jiangsu Industrial Technology Research Institute
14:25 – 14:40
Experience from the Netherland: How the System and Policy Stimulate Innovation in Elderly Care Models, Technology, and Products
Nico Schiettekatte, Counselor for Health, Welfare & Sport, Embassy of the Kingdom of the Netherlands in PRC

14:40 – 14:55
Digital Inclusion for Older Adults
Chen Hongtu, Research Scientist, Psychiatry, Mass General Brigham Hospital
14:55 – 15:10
Thailand Experience: Renovative Farming Tools Enable Rural Elderly People Continue Working
Phusit Prakongsai, Medical Lecturer, Department of Community Medicine, Faculty of Medicine, Ramathibodi Hospital
15:10 – 15:20
Open Discussion

15:20 – 15:30
Q&A

Session 7. Expanding Quality Elderly Care Services
Moderator: Qaisar Abbas, Chief, Research Division, Central Asia Regional Economic Cooperation (CAREC) Institute
15:30 – 15:45
Emerging Hospice Care Need in PRC
Jing Jun, Director, Research Center for Medical Sociology, Tsinghua University
15:45 – 16:00
Advance Directive is a Key Component of High-Quality Elderly Care
He Zongke, Doctor, Senior Nurse Specialist, University of North Carolina Hospital
16:00 – 16:15
Early Screening and Intervention System Development of Dementia – Observation of Practice in Shanghai
Chen Honglin, Professor, School of Social Development and Public Policy, Fudan University
16:15 – 16:30
Civil Society's Participation in Rural Elderly Care Service Development – A Case Study of Shaanxi
Deng Xueyi, Secretary General, Shaanxi Ageing Development Foundation
16:30 – 16:40
Open Discussion
16:40 – 16:50
Q&A
16:50 – 17:00
Concluding Remarks
Moderator: Yao Yixin, Senior Research Fellow, ADBI

Safdar Parvez, Advisor, EARD, ADB
Dil Rahut, Vice-Chair of Research, Senior Research Fellow, ADBI